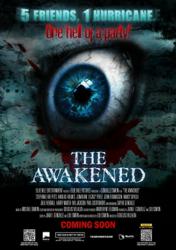 The Awakened is not just another scary movie. The audience will feel the power of spiritual healings. - Lou Simon, Writer, Co-Director & Producer
Miami, FL (PRWEB) April 04, 2012
Blue Nile Pictures, a Miami-based independent film production company, today announced that it has wrapped up post-production on its supernatural thriller "The Awakened."
"It's been a long and detailed process," says Producer Juan F. Gonzalez, "but the finished product far exceeds our expectations of what could be done given the budget."
The feature film was shot entirely in Miami, Florida and stars Jonathan "Legacy" Perez of Fox's "So You Think You Can Dance" and features voice over work by Florida radio personality Paul Castronovo of the "Paul and Young Ron Morning Show."
Its premise is based on a subject that is very familiar to Miami's residents – how to survive a hurricane. However, in this movie, there is a terrifying twist. "Five friends decide to have a hurricane party at a house only to find that they are trapped inside with an evil spirit," explains Writer, Co-Director & Producer Lou Simon.
The film will be shown for the first time on the big screen to members of the press, its cast and crew, and the film's investors on April 14th at the Paragon Theater in Coconut Grove. "We want to share the finished product with those who were a part of the whole process before we start submitting the film to film festivals," says Andrew M. Feldman, the Executive Producer. The Private Screening is not open to the public and will include a Question and Answer session with the cast and crew after the film. Tickets are still available for members of the press who wish to attend.
Blue Nile Pictures expects to submit "The Awakened" to several horror film festivals that take place during October, including Screamfest and Shriekfest in Los Angeles.
SATURDAY, APRIL 14, 2012
3:00 PM - 6:00 PM
Backlot Wine Bar & Lounge Located Inside Paragon Grove Theatres at Cocowalk
3015 Grand Avenue
Suite #322
Coconut Grove, FL 33133
This is an invitation-only event, not open to the general public.
About "THE AWAKENED"
It's summer time in Miami, Florida. Hurricane Helene is headed straight for the city. Five friends decide that they will have a hurricane party to ride out the category three storm together. As the storm intensifies, the friends grow weary of drinking games. As tension rises among them, they decide to recreate a spiritual healing as a way to pass the time. It seems like an innocent game, but something goes horribly wrong.
Trapped through the night by the storm, the friends figure out that they are not alone in the house. Something has come through the portal that they opened. Will any of them survive the night?
About Blue Nile Pictures, LLC
Blue Nile Pictures is an independent production company of motion pictures founded and operating in Miami, Florida.
9155 South Dadeland Blvd.
Suite 1408
Miami, Florida 33156
(888) 674-BLUE (2583)
http://www.bluenilepictures.com