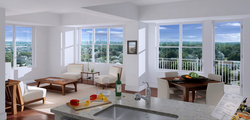 We're also at the 'Gateway' to the North Shore and minutes from surrounding beaches and recreational delights
Malden, MA (PRWEB) June 13, 2008
Quarrystone at Overlook Ridge has Grand Opened to the public with 254 stylish condominium residences, a dynamic "New Urbanism" design encouraging outdoor social interaction, exciting amenities, a great location near downtown Boston, and a special financing program that will undoubtedly appeal to renters and first-time buyers.
Those who purchase a home during the Grand Opening period at "The Q" can take advantage of a below-market, fixed-rate mortgage program that offers a 3.88% rate for the first year, a 4.88% rate for the second year, and a 5.88% (6.25% APR) fixed rate thereafter for the life of the loan term, according to Lennar Urban and Roseland Property Company, who are developing the chic new uptown neighborhood of luxury condos in the City of Malden, MA.
In addition, those who register during the opening of "The Q" will receive a $50 Free Gas Credit Voucher.
"Public anticipation for the Grand Opening of 'The Q' has been growing for months, and the announcement of this incredible financing program has only enhanced that excitement," says Lisa Poggi, Vice President of Sales and Marketing for Lennar Urban.
"In fact, more than 400 prospective buyers placed their name on the community's VIP list prior to the opening. Many are current renters and first-time buyers who recognize both the convenient and exciting lifestyle opportunity offered here, as well as the extraordinary value. After all, where else can you own a new condominium home in a vibrant, urban-style residential neighborhood near downtown Boston for just $285,000 which, when paired with the new financing program, will cost you just $1,712 a month for the first year?"
Lennar Urban, a national homebuilder responsible for upscale urban-inspired developments in some of the country's most desirable cities, and Roseland Property Company, a New Jersey-based developer recognized as a leader in urban redevelopment throughout the Northeast, have joined together to create a cutting-edge living experience at "The Q."
"The Q" introduces a signature 'New-Urbanism' style of living by combining modern and sleek interior designs with a dynamic and stylish social setting enhanced by walking paths, public green space and resort-inspired amenities," says Ms. Poggi.
Incredibly priced from $270s, the one-and two-bedroom condominium homes at "The 'Q" have been specifically designed with the first-time buyer in mind, particularly renters who are looking to trade in useless rent receipts for the numerous advantages of homeownership.
Homes will offer from 770 to 1,335 square feet of upscale living space and will be outfitted with the latest in designer appointments, including state-of-the-art multimedia packages, gourmet kitchens, stainless steel appliances and designer baths -- all of which adds up to an unmatched value in today's marketplace. A select number of luxury residences will also feature private balconies or patios.
Residences are expected to be available for occupancy in fall, 2008.
Exciting amenities will be a hallmark at "The Q," with state-of-the-art facilities creating the sense and feel of a cosmopolitan City neighborhood. At the heart of it all will be the The Quarry Club, a professionally-decorated clubhouse featuring an elegant lounge with big-screen television and private movie theatre, a fully-equipped fitness center and billiard tables.
"Outside, the beautifully landscaped pool and sun terrace are sure to be a popular gathering place," Ms. Poggi points out. For those who want a full body workout, there's also a tennis court. Other coveted amenities include media and business centers within the community and the Q Marketplace, the perfect destination to grab last minute groceries."
Homeowners will also appreciate "The Q's" location in Malden and Revere which makes traveling to the many business and recreational diversions throughout the area a breeze. Downtown Boston can be reached within minutes thanks to nearby Interstate 93, as well as public transportation via the commuter rail and the MBTA Orange Line. A free shuttle to downtown destinations will be provided.
"We're also at the 'Gateway' to the North Shore and minutes from surrounding beaches and recreational delights," Mr. Poggi adds. "There's also much to do within Malden which boasts more than 20 public parks and local shopping and entertainment in its downtown district. The City has also been working to help cultivate its relationship with the already extensive arts community by opening new art studios."
For additional information on "The Q", please call 1-877-205-2383 or visit the community's website at http://www.LiveAtTheQ.com
"The Q" marks a unique partnership of two of the most prominent and respected development companies in the region. By joining forces, Roseland Property Company combines its substantial experience in creating masterful multi-family developments with Lennar's national perspective, extensive capabilities, and unwavering commitment to client service. Roseland's reputation for creativity and design excellence is unparalleled in the region, while Lennar Corporation, founded in 1954, is the second largest homebuilder in the nation. The company has repeatedly been recognized as Fortune Magazine's "Most Admired Homebuilding Company in America."
###