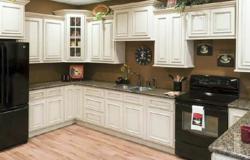 Just wanted to say thanks for your excellent service and quality cabinets. We couldn't be happier.
Fishkill, New York (PRWEB) November 05, 2011
TheRTAStore.com launches its new Professional Kitchen Designer tool, which allows customers to get their kitchen designed for free by the retailer's professional designers. The tool gives users a three-dimensional image of what their kitchen will look like with the kitchen cabinets they choose and allow them to avoid any unwanted surprises on installation day.
TheRTAStore.com CEO Tyler Ackerman says, "One of the greatest challenges of kitchen design is figuring out whether you need not only white kitchen cabinets, black kitchen cabinets, or some other finish, but if the cabinets you want will fit exactly how they should in your kitchen or whether or not you need toe kicks, fillers, or moldings to complete your kitchen. This new design tool allows our customers to get the whole picture so that they can be sure they're getting exactly the kind of kitchen they want."
The Kitchen Design tool at TheRTAStore.com offers a place for customers to upload photos or layouts of their kitchen and list the kind of finish they are looking for in their kitchen cabinets. Customers can also enter in any other comments about what they need or want.
TheRTAStore.com offers more than 40 finishes in ready-to-assemble or pre-assembled wood kitchen cabinets. Customers have the option to order sample doors to see the quality of the craftsmanship in the wood kitchen cabinets sold by the retailer.
TheRTAStore.com also operates RTAFlooring.com and BathroomVanitiesforLess.com, a new site that offers a wide selection of bathroom vanities. TheRTAStore.com continues to expand its product lines on all three of its websites amidst glowing customer reviews and rapidly increasing sales. Earlier this year Internet Retailer magazine listed TheRTAStore.com on its "Second 500" list of the fastest growing online companies.
About the RTA Store:
TheRTAStore.com is a family-owned and operated online retailer of ready-to-assemble and pre-assembled black kitchen cabinets, white kitchen cabinets and numerous other finishes in wood kitchen cabinets.The company sells products from reputable companies customers know and trust.
###