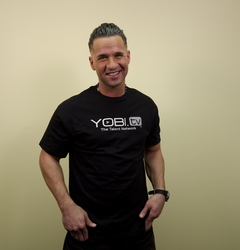 I think this is one of the most creative ideas out there
Detroit, MI (PRWEB) January 17, 2011
Mike "The Situation" Sorrentino, star of MTV's Jersey Shore, will star in the second of several YOBI.tv produced web series that will co-star the winners of the new YOBI Act contests. The contest for his co-stars is now open for auditions at (http://yobi.tv/yobiact/mike-the-situation-sorrentino)
With the hit MTV reality series Jersey Shore currently in its third season, Sorrentino is no stranger to the spotlight. However, this web series will be new territory as he takes the lead role as a fictional character for the first time in his fast-growing career. It is also an industry first to allow the world to choose his co-stars on an online voting platform.
"I think this is one of the most creative ideas out there," says Sorrentino "It will be exciting to play a fictional character and to act with unknown co-stars who will have the opportunity to be discovered by acting in the web series with me."
The content of the web series will be announced soon but YOBI.tv promises that it is a great fit for Mike Sorrentino and a comedy series that you will not want to miss.
YOBI.tv recently signed Audrina Patridge, of MTV's The Hills fame, to star in the first series and will continue to open several YOBI Act contests for additional web series throughout the year. Winning talents from the other YOBI.tv contest channels for singing, film-making, comedy, and photography, will also be featured in all YOBI.tv web series.
After giving away hundreds of thousands of dollars in cash and VIP prizes to the winners of its first four contest channels, YOBI.tv has opened a new door which offers high profile opportunities for aspiring entertainers to show their talent to the world.
Without corporate development executives, YOBI.tv (http://yobi.tv) offers fame and fortune to anyone, anywhere, anytime. The global audience votes and anyone in the world has the opportunity to become famous.
###