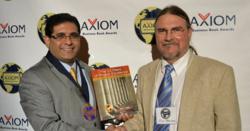 The 12 Pillars of Project Excellence helps organizations world-wide establish a solid practice of leadership at all levels and ushers in a new age of engagement, empowerment, and enlightenment.
Austin, TX (PRWEB) May 30, 2013
The Axiom Business Book Awards, presented by Jenkins Group Inc. and sponsored by several organizations like Inc. Magazine, are the largest and most respected critical guidepost for business books in today's new world of publishing. Axiom Business Book Awards are only awarded to the best, cutting-edge business books. These prestigious and competitive awards are presented in 21 business categories and serve as the premier list to help readers discover new and innovative works. The Axiom Book Awards are the go-to list connecting readers with high-quality, cutting edge, business books that provide information and ideas critical to success in today's competitive market place.
The Axiom award is the latest acknowledgement of The 12 Pillars of Project Excellence and author Adil Dalal since it was published in 2011 by CRC Press. The 12 Pillars of Project Excellence had received numerous accolades from both the corporate as well as the academic world for its innovative and breakthrough concepts such as the power of visualization™, pinnacle performance zone™, the science of simplicity™, and sensei leadership™.
Mikel Harry, the co-creator of Six Sigma, called Dalal's work "…a highly pragmatic guide to project management. Not only does the book provide the fundamental tools that leaders need to get better project results, it lays out the way of thinking that underpins success." The book has also received several other accolades from Dr. Vijay Mahajan, Chair at the McCombs School of Business, UT Texas, John Salazar, former CIO, State of Mexico and other corporate leaders like Karl Wadensten, host of the TV talk show "The Lean Nation" and several others. In a book review for PM World, Michele Muse, PMP writes, "... not only very readable, but also inspirational. The book serves the dual role as "mentor in a book" for the individual and as "consultant in a book" for the organization."
Dalal says that "It is truly an honor to have my very first book recognized by the business community and I am humbled to be among the esteemed Axiom awards." He provides insight into some key innovations in this book and also shares his inspiration to write the 12 Pillars book in this video interview.
Adil Dalal is the CEO and Founder of Pinnacle Process Solutions International ®, LLC, Chair, Human Development & Leadership division of ASQ, an author, entrepreneur, keynote speaker and radio show host. He has also co-authored the Lean Handbook, published by ASQ. He is also the author of upcoming book, A Legacy Driven Life. For more information kindly e-mail info(at)pinnacleprocess(dot)com or visit http://www.pinnacleprocess.com.