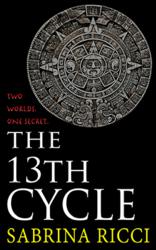 The publishing industry is in a state of flux. Experimenting and embracing change is the best way to be successful in the world of ebooks.
New Brunswick, NJ (PRWEB) December 11, 2012
While many debate the meaning of the ending of the Maya Calendar on December 21 of this year, one author hopes to have it point to a new age of collaborative publishing.
Using crowd sourcing, Sabrina Ricci brought her ebook, The 13th Cycle, to life as a living metaphor of what the author hopes the end of the Maya Calendar means for humanity—a new age of cooperation and collective creativity.
Ricci got the idea to write about the Maya's supposed end of the world prediction earlier in 2012, when her mother started fretting about December 21.
"She told me I needed to come home for December 21," Ricci said. "She said, 'If the world ends, I want my family to be with me.' This made me a little nervous, so I decided to write an optimistic thriller about the Maya, as a way to comfort both of us."
Despite Ricci's traditional publishing background at Simon & Schuster, where she was an ebook developer, she turned to crowd-funding and agile publishing as a means to get The 13th Cycle out. From October through November, a community of reader-editor-contributors formed at The2012ebook.com. Some subscribed to the blog, while others commented and even reached out privately to help brainstorm chapters.
"Agile publishing may or may not be the next big thing in self-publishing," said Ricci, who has already successfully published flash fiction ebooks. "However, it will impact book success because by having reader feedback in real time, the author will ultimately produce a book readers want to own and read."
Ricci's experience working with ebooks as they find a place within traditional publishing gives her a unique perspective on the future of publishing.
"The publishing industry is in a state of flux. Experimenting and embracing change is the best way to be successful in the world of ebooks. Just as we have to do so with all the challenges of the digital age," she said about how the Maya Calendar informed her project.
The 13th Cycle will be available on Amazon, Barnes & Noble, Kobo, Smashwords, and more, starting December 13. Or, support the author directly by purchasing at http://www.sabrinaricci.com/books/shop/the13thcycle/.
###
Sabrina Ricci is the recipient of the 2012 Oscar Dystel Fellowship. She has a M.S. in publishing from NYU and a creative writing certificate from UCLA Extension. In the past she has worked and written for Simon & Schuster, Random House, LIFE.com, Santa Barbara Magazine, and Noozhawk. Currently she freelances at NBC Publishing and The Experiment Publishing. In addition to writing, she is building her startup, http://writeorread.com, which will provide self-published authors of ebooks with valuable metrics and insights to help boost their success.