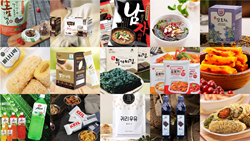 "We expect the US food market to respond well to the healthy, spicy, and ethnic food. We also expect the exports of Korean agri-food products to be robust. I look forward to what participating in this event will leave in store for us." - Kim Kwang-jin (aT Center, GM)
NEW YORK (PRWEB) June 20, 2019
The Ministry of Agriculture, Forestry, and Livestock (Minister Lee Ki-ho) and the Korea Agro-Fisheries & Food Trade Corporation (aT, President Lee Byung-ho) will be participating in the 2019 Summer Fancy Food Show on June 23-25 at the Jacob K. Javits Convention Center to introduce new Korean food and beverage products to the North American market.
This year marks the 65th anniversary of the Fancy Food Show, which is the largest food expo in the United States with 46,000 food professionals and 2,600 companies participating. Furthermore, over 200,000 products will be on display to demonstrate current and future food trends. It's no wonder why 87% of visitors at global expos use the opportunity to explore new buyers, promote products, and find value-added items. Furthermore, our exhibitors are all experienced in consulting with US buyers.
To build on the trend of health promotion in the US, aT will feature 30 companies and their healthy, functional products including ginseng, natural snacks, miso, soy sauce, and fresh mushrooms.
The theme of this year's Korean Pavilion is "Easy Cooking: Eat Healthy and Enjoy Korean Food." Chef Jae Jung of Cafe Boulud, considered to be one of the next top chefs, will use the promoted products to create seven beautiful and appetizing dishes.
The same products will be promoted and used at the Fancy Food Show's inaugural "Taste It Live" booth, where Chef instructor Youngsun Lee of the Culinary Tech Center, along with top students and alumni of the renowned Culinary Institute of America, will prepare a menu of 17 unique dishes.
In addition, consultations will be provided on-site in order to provide accurate understanding and information of these Korean products and how to best market them in the US.
According to aT General Manager Kim Kwang-jin, "imports to the United States have been on a steady rise for the last ten years. In 2018, Korea's agricultural exports to the US grew 5.4%." He further explains that "we expect the US food market to respond well to the healthy, spicy, and ethnic food. We also expect the exports of Korean agri-food products to be robust. I look forward to what participating in this event will leave in store for us."
More information about this event can be found at aTcenterAmerica.com.