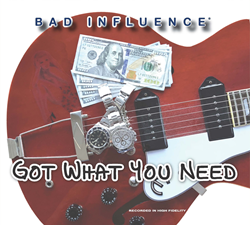 FREDERICK, Md. (PRWEB) April 17, 2019
Got What You Need (Badblues Records BBCD8023) will be available for download and will be shipping on April 16th. The fifth CD from The Bad Influence Band celebrates the bands 30th anniversary with 4 original songs and a collection of some of their favorite covers by Michael "Jr" Tash (Guitar/Vocals), Roger Edsall (Harp/Slide Guitar/Vocals), Bob Mallardi (Bass/Vocals) and David Thaler (Drums/Vocals). Recorded at Ambient Studios in Laurel, MD and mixed as well as forensically produced by Timm Biery at Church of the Monkey, Overland Park, KS, this CD shows the talent and songwriting ability of the band.

This CD features the heavily requested singles Got What You Need and Nuthin' But A Dime
CD Release Parties set for May 10th at The Soundry in Columbia, MD and May 26th at JV's in Falls Church, VA
Advance copies available at the following shows: April 20 – The Hamilton Loft, Washington, DC; April 27 – The Owls Nest, Frederick, MD; May 1 – Barley & Hops, Frederick, MD
Bad Influence is now available for festival and club dates!
Please check the Bad Influence web site at http://www.badinfluenceband.com for booking information.
Badblues Records
301-910-8551
PO Box 266
Germantown, MD 20875 USA