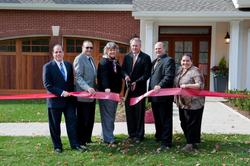 site. The Club community will be a valued part of the greater community and an asset to the Village and its residents
Briarcliff Manor, NY (Vocus) October 21, 2010
State, County and Village officials today joined with executives from Integrated Development Group (IDG) to celebrate the Grand Opening of the new Information and Design Center at The Club at Briarcliff Manor, the premier fee-for-service continuing care retirement community under development in Briarcliff Manor.
The $350 million community, which is setting a new standard of excellence for amenities, service and design in senior living, will feature 325 spacious townhomes, villas and apartments with best-in-class services and amenities. It is one of the largest residential communities under development in the region.
"We are delighted to celebrate yet another significant high point in the development of what will be the finest senior living community of its kind in the Northeast. This spectacular new Information and Design Center will serve as a showcase for the unmatched quality and exceptional design that we are offering at The Club at Briarcliff Manor. We applaud our interior design team for the extraordinary job they've done in creating these beautifully designed and decorated model residences," said Matthew K. Phillips, President and Chief Executive Officer of IDG, which is developing The Club at Briarcliff Manor in partnership with the National Electrical Benefit Fund (NEBF), a Washington D.C. based pension fund with over $10 billion in assets.
"Today's Grand Opening is another step forward in the long anticipated development of this exciting new senior living community. We commend IDG and its entire development team for their vision and dedication and appealing design of these extraordinary new model homes. The Club at Briarcliff Manor in its development continues to seek ways to recreate the beauty and grandeur of this historic "Briarcliff Lodge" site. The Club community will be a valued part of the greater community and an asset to the Village and its residents," said Briarcliff Manor Mayor William Vescio. "We're very appreciative of The Club's sensitivity and its contributions to the community including the construction of the new Village field located at this site. We look forward to the dedication of this field and our children using it."
Located at 25 Scarborough Road, the new Information and Design Center features three elegantly designed model residences each decorated by some of the area's foremost interior designers. The two-bedroom, 2,300-square-foot Harrison townhome model, which was decorated by Bloomingdale's Interior Design Studio, draws inspiration from the lush natural surroundings of The Club, focusing on colors of the fall and spring seasons. W.L. Landau-Ethan Allen's nationally recognized design team decorated the two-bedroom, 2,200-square-foot Hastings model townhome in a style that features a relaxed, easy-to-manage traditional look with a modern simplicity. The 1,100-square foot Jefferson apartment style residence, which was decorated by J.R. Cattington Interiors, conveys a feeling that is contemporary yet comfortable with clean simple uncluttered lines throughout.
The Club at Briarcliff Manor is located on the former site of King's College and was once home to the historic Briarcliff Lodge, one of America's preeminent resort hotels. The magnificent property boasts 59 acres of mature grounds that were originally designed by Frederick Law Olmstead, the famed landscape architect of Central Park.
The property's natural elevation changes divide The Club into two residential "villages," each offering distinct homes and floor plans that support an active lifestyle. The Upper Village features Tudor-style buildings with 288 one-, two- or three-bedroom apartment residences, many of which will offer spectacular views of the Hudson River and New York City skyline. The Lower Village will consist of 24 townhomes and 13 free-standing villa homes with first-floor master suites, fireplaces, cathedral ceilings, optional elevators and attached two-car garages. The townhomes and villas will be nestled along The Club's extensive walking trails and scenic pond. Perkins Eastman is the architect for the Upper Village apartment homes, and Sullivan Architecture is the architect for the townhomes and villas.
The 43,000-square-foot Clubhouse will include restaurants and lounges, a concierge, library, multi-media business center with wireless Internet and surround sound theatre. Residents can relax and be pampered in The Club's very own Salon and Spa or work out in the state-of-the-art Fitness Center and Aquatic Center with heated saltwater indoor pool and whirlpool. Amenities include weekly housekeeping, flat linen service, valet parking, a flexible meal plan, utilities, interior and exterior maintenance and scheduled transportation to area shopping, appointments and events. Should the need ever arise, the Supportive Living Center will offer assisted living, memory support and skilled nursing.
Entrance fees for residences, which are 90% refundable, will begin at $599,900. Monthly fees for amenities and services are projected to begin at $3,190. The Club is scheduled to open in 2013.
The Club art Briarcliff Manor recently launched a unique multi-faceted program to introduce its future residents – or Members -- to the lifestyle they will be enjoying at The Club at Briarcliff Manor long before they move into their new residences three years from now.
Called Ageless at The Club, the new program provides Members with an opportunity to begin participating immediately in a wide range of fitness, educational and cultural programming. Members receive a monthly calendar of activities such as yoga lessons, literature club discussions, computer classes, gardening and a walking club. Members will also enjoy an active schedule of events where they can meet fellow participants and develop friendships with their future neighbors. Activities include luncheons, summer barbeques, holiday parties, culinary events and wine tastings. The Club is partnering with local organizations and educational institutions such as Club Fit, the Jacob Burns Film Center and Westchester Community College as part of the program.
The Club at Briarcliff Manor is conveniently located a short 45-minute ride from Manhattan by Metro North Railroad. Nearby there is a wide array of entertainment, cultural and recreational venues including the Jacob Burns Film Center, Caramoor Center for Music and Rockefeller State Park Preserve.
In addition to The Club at Briarcliff, Integrated Development Group, in partnership with NEBF, is also developing 850 Lake Shore Drive, a $150 million senior retirement community in Chicago's distinguished Streeterville neighborhood.
For more information about The Club at Briarcliff Manor, call (914) 923-4050 or visit the Information and Design Center at 25 Scarborough Road, Briarcliff Manor. Or visit online at http://www.TheClubBCM.com
###