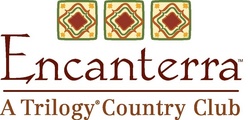 I've designed spaces for private clubs and for resorts, but this is the first clubhouse I've designed that features high-end luxury amenities featured in both settings. It's a gigantic space that will offer members every amenity imaginable
Queen Creek, AZ (Vocus) December 5, 2008
Despite the recent news that the economy is officially in recession, one Scottsdale-based builder is confidently moving forward and breaking ground on a major component of its upscale East Valley community. Trilogy® by Shea Homes today broke ground on The Club at Encanterra, a Trilogy Country Club. The Club will be the centerpiece of this 745-acre, gated residential community for all ages.
"We're bullish on the economy and our Trilogy communities," said Hal Looney, Arizona area president with Shea Homes Active Lifestyle Communities. "Dozens of families have used Encanterra as the backdrop for their holiday photos, which tells us that people like what they see. We offer beautiful communities and great lifestyles, at a value that will motivate consumers eventually. By breaking ground on the Club, we're demonstrating that we're confident in the future and we're here to stay."
Located near Queen Creek, Encanterra is Trilogy's first venture into exclusive country club living. It will include more than 2,400 luxury residences at full build out, which is slated for 2016.
Encanterra's resort quality lifestyle will revolve around the Club designed by renowned architect Bing Hu. Approximately 11,000 square feet of the 42,000-square-foot space will be dedicated to the athletic club, which will be outfitted with cardiovascular and weight training equipment and staffed by fitness professionals. In addition, the Club will feature an eclectic and contemporary tapas restaurant and wine bar with indoor, outdoor and private/banquet dining options. Members also will be able to take advantage of a luxurious spa, Internet café, three swimming pools - outdoor resort style, indoor lap and indoor fitness - and lighted outdoor tennis courts.
"I've designed spaces for private clubs and for resorts, but this is the first clubhouse I've designed that features high-end luxury amenities featured in both settings. It's a gigantic space that will offer members every amenity imaginable," said Bing Hu, founder of H&S International, a north Scottsdale-based residential and hospitality design firm catering to high end projects. Architecturally, the Club will be a spacious and timeless venue, connected by courtyards to take advantage of Arizona's indoor/outdoor lifestyle. All aspects of the clubhouse design also incorporate "green building" techniques, from the site orientation and building material selections to the gas-fired cooling system.
Encanterra homeowners will receive social memberships to the Club. Residents also will have the option to purchase a golf membership for access to the private 18-hole, Tom Lehman designed championship course. Construction of the Club is expected to be completed by late 2010.

About Encanterra, A Trilogy Country Club
Located near Queen Creek at the southeast corner of Ironwood/Gantzel and Combs roads, Encanterra is Trilogy's first venture into exclusive country club living. Encanterra will include more than 2,400 luxury residences at full build out, which is slated for 2016. Homebuyers can choose from a series of three European-influenced home designs with 13 floor plans that range from 1,400 to 3,700 square feet. All homes at Encanterra will feature Trilogy's Smart Spaces™ - rooms designed to accommodate hobbies and special interests - and will be built according to energy-efficient, environmentally friendly Shea Green Certified® standards. The on-site model home gallery and tour center are currently open. For more information, visit http://www.encanterra.com or call (866) 505-9528.
About Trilogy by Shea Homes Active Lifestyle Communities
Trilogy communities are high-end resort communities offering a new choice in living to those looking for an exciting lifestyle that revolves around wellness, exploration, continued learning and close personal connections. Architecturally superior product design and amenities reflect the changing needs of the baby boom generation, including business services, world-class clubs, state-of-the-art fitness facilities and a diverse range of recreation and education opportunities. Trilogy is committed to addressing boomers' growing concern about our environment and energy usage, and now offers Shea Green Certified® homes across its portfolio, delivering substantial energy savings to home owners while reducing each home's carbon footprint by up to 48 percent. More information is available online at http://www.TrilogyLife.com or by calling (800) 685-6494.
About Shea Homes
For more than 125 years, members of the Shea family and their companies have accomplished many extraordinary milestones including work on the foundation of the landmark Golden Gate Bridge, San Francisco Bay Area's Rapid Transit System (BART) and managing the construction of the Hoover Dam. Shea Homes introduced its Trilogy brand to the market in 1999 as the centerpiece of its Active Lifestyle Communities division. Today, Trilogy has become the quickest growth area of Shea Homes' business with nine active lifestyle communities currently open and plans to expand nationally. For more information visit http://www.sheahomes.com or http://www.TrilogyLife.com.
Media Contacts:
B.J. Communications, Inc.
Liz Meyers - (602) 277-9530 x226 ; liz@bjc.com
Kati Spencer - (602) 277-9530 x228 ; kati@bjc.com
###