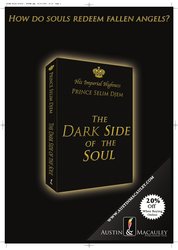 I set out to write this novel to explain my personal vision of Humankind's place in the universe
Geneva, Switzerland (PRWEB) September 30, 2009
His Imperial Highness Prince Selim Djem, great-great grandson of Emperor Abdulmejid is proud to announce the release of his new novel.
In 'The Dark Side of the Soul,' two souls fall in love before an angel casts them into the shadowy mortal world. Embodied in human shells but bereft of memory from their inner selves, they seek each other through the ages, never aware of the nature in their obsessive quest. Captured by angels, lured by demons, they must find the secret role of Humankind and the mysterious purpose of incarnation before facing the dark side of the soul.
"I set out to write this novel to explain my personal vision of Humankind's place in the universe," says Prince Selim Djem. "All things, from the minutest particle to the universe, have a dual aspect - corpuscular and wave. The universe and God are the two aspects of the greatest entity we know, the universe being its corpuscular aspect such as we perceive it with our limited views. If our perceptions were unlimited, we would see that what we call black matter and black energy are in fact the past and the future, both ever present. I wanted to pierce mankind's function in the universe as well as the soul's - man's dual aspect - for if mankind is part of the universe, all souls are sparks of God. The key concept is the purpose of incarnation, which ties everything together and gives the story its coherence."
Target audience: The Dark Side of the Soul will appeal to the 20 +, both female and male.
An excerpt from 'The Dark Side of the Soul':
"Tell me, angel - where is she? I beg you!"
"Like you, she was swept in the river of time and travels the width and breadth of the universe. Repeatedly, she will be clothed in flesh and live through adversity until she finally recognizes the sanctity of life." His robe dazzles white, covered with a green quivering tangle of leaf-patterned shade. "Now, you must prepare yourself, for you are about to enter your next cocoon. Before tasting his sweetness, you must fight your way out of the darkness. However, have no fear. Even sheathed within the darkest night, the spark of God shall yet shine through - not even the shadows of hell can overcome it."
The reviews of 'The Dark Side of the Soul' have been glowing. Here are but a few:
"Prince Selim's fantastical and metaphorical novel is explicitly about longing -- the yearning for one's other, the other that makes one complete. In his story, two souls fall in love before an angel draws them apart and jolts them from one incarnation to the next, experiencing the full spectrum of human emotions as they search for their other."
Linda Wastila, author of 'Brighter than Bright'
"Prince Selim's beautifully constructed novel engulfs the reader in a vortex of human emotion, interweaving the characters' lives, their happiness and grief with the forces of the cosmos, creating a world of extraordinary power and sensitivity."
Chris Chamberlain, Member of the Philological Society
"'The Dark Side of the Soul' unleashes its unrestrained imagination upon the reader, thrilling anyone with an interest in fantasy, philosophy and metaphysics."
Raphael diTraglia
"The writing in this book is brilliant. Selim tells a poignant tale in a poetic style. As a reader you genuinely feel the loneliness of the two protagonists during their tragic, eons long, separation. This is a highly imaginative book and a great pleasure to read."
Rick DeCost, The Absent Willow
"H.I.H. Prince Selim has used his imagination and sense of spirituality to write a novel that is unique and crosses conventional boundaries. This novel traces the journey across time and geography of two souls that keep meeting. More original than the Time Traveller's Wife, Prince Djem's novel is a page turner designed to keep you wondering what will happen next. If you enjoy intelligent, witty and challenging novels, then you should buy and read this novel immediately."
John Scanlon, English Literature Professor, University of Cyprus
"Striking scenes, in Europe and the USA, depicting painful realistic actions, intermingled with vistas of surprising freshness.
Poetry and the quest of infinity sung by the voice of an eternal youth. This book is a must to understand the angst of teenagers jolted in the turmoil of our modern world."
Maroussia Genko, Mémoires d'une princesse géorgienne
Available in Geneva, Switzerland, at LIBRAIRIE ALEXANDRE JULLIEN - Bourg-de-Four 32, 1204 Genève. Phone: 022 738 56 10. Email: jullien(at)geneva-link(dot)ch. NOUVELLE LIBRAIRIE DESCOMBES - 6 rue du Vieux-Collège, 1204 Genève. Phone: 022 311 56 56. Email: info(at)nld-descombes(dot)ch. AU PARADOXE PERDU - Place Grenus 3, 1201 Genève. Phone: 022 732 59 61. Email: paradoxe(dot)perdu(at)bluewin(dot)ch. PAYOT LIBRAIRIE - Rue Chantepoulet 5, Case Postale 1953 / CH-1211 Genève 1. Phone: 022 731 89 50, Fax: 022 738 48 03. Email: X.HUBERSON(at)PAYOT.CH. L'OLIVIER - rue de Fribourg 5, 1201 Genève. Phone: 022 731 84 40. Fax: 022 731 82 80. FNAC SUISSE, rue de Rive 16, 1204 Genève. Phone: 022 816 12 12. Fax: 022 816 12 15.
Read excerpts of 'The Dark Side of the Soul' at http://www.selimdjem.com, follow me on Twitter at http://twitter.com/PrinceSelim and let's meet at Linkedin at http://ch.linkedin.com/in/selimdjem. To become my friend on FACEBOOK, search for princeselim(at)bluewin(dot)ch.
'The Dark Side of the Soul'
Prince Selim Djem
Category: Romantic Fantasy
Price: $15.99, CHF 28.--
400 PP
Format: Paperback and Hardback
Territory: World
About Prince Selim Djem
His Imperial Highness Prince Selim Djem is a member of the Ottoman House, a seven hundred years' ruling dynasty. Thirty-six emperors succeeded at the head of the Ottoman Empire, whose capital was Istanbul. At its peak, the Ottoman Empire encompassed a territory that stretched from North Africa to the Balkans, extending over Eritrea, the Near East, most of the Middle-East as well as all the countries along the Black Sea. Prince Selim lived in the United States and Europe where during eighteen years he studied numerous subjects at the Université de Genève, ranging from Biochemistry to Psychology, from Sociology to Mathematics and from Economics to Computer Sciences, before teaching Creativity and Deviant Behavior and becoming a professional reporter. During his career as a journalist, he interviewed celebrities such as Isabelle Adjani, Woody Allen, Ursula Andress, Kim Basinger, David Bowie, Tim Burton, George Clooney, Kevin Costner, Maryam D'Abo, Catherine Deneuve, Clint Eastwood, Robert Englund, Milos Forman, Jody Foster, Norman Jewison, Courtney Love, Darnell Martin, Edward Norton, Chazz Palminteri, Joel Schumacher, Arnold Schwarzenegger, the Scorpions, Sharon Stone, Suede, Tracey Ullman, Robin Williams, The Worlds Apart, Neal Adams, Stan Lee and Joe Simon, to name a few. He has used his extensive knowledge and research to create this powerful and unusual novel. Contact the author at info(at)ottoman(dot)li or visit http://www.selimdjem.com and/or http://www.ottoman.li and or you can write him at Prince Selim Djem P.O. Box 209/1211 Geneva 21 Switzerland.
###