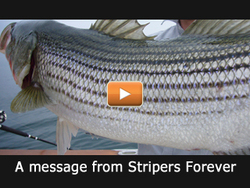 We're not saying that you can't keep fish because that's your right, but if you're going to release them you need to learn to do it the right way
New York, NY (PRWEB) December 9, 2008
Fishing industry leaders team up to speak out in favor of catch and release fishing. A short video produced by Jason Puris of TheFin.com (http://www.thefin.com) and Stripers Forever is making the rounds on the web today. The video takes an interesting approach to catch and release fishing.
"We're not saying that you can't keep fish because that's your right, but if you're going to release them you need to learn to do it the right way," says Jason Puris, CEO and Founder of TheFin.com a social network for people who fish. The video not only shows the proper techniques necessary for releasing fish unharmed, but also explains in simple terms the reasons why.
Featured in the video is Brad Burns, president of Stripers Forever. Stripers Forever is a not for profit group dedicated to making striped bass a gamefish. "These fish are living breathing things and should be treated with care," says Burns. Also lending a voice to the video is Carl Safina noted author of Song for the Blue Ocean and president of the Blue Ocean Institute. "If the whole point is that you are releasing fish you want to try not to hurt them," says Safina.
The video can currently be viewed on TheFin.com's website: http://www.thefin.com/clubs/stripers-forever.
Catch and release is not just for striped bass. While the video's focus is on striped bass the message is universal to all species. "This is an important message for all anglers. I'm tired of seeing fishermen throwing and kicking their fish back into the water. If not treated with care, you are killing fish you did not mean to kill, " says Puris.
TheFin.com is dedicated to helping groups like Stripers Forever and other fishing based conservation groups spread their message to its active user base. Since it's launch this past May, TheFin.com has become a top destination for fishermen and women from around the world. Users come to The Fin to connect with other people who fish, book fishing guides and charter captains, get up to the minute fishing reports, browse fishing videos, and learn a thing or two about conservation.
About The Fin:
The Fin is a social network for people who fish. It was created to give fishermen a place to connect with other fishermen, to learn, to be entertained, to share, and to provide all fishermen with the resources they need to help ensure they have a good day on the water. The Fin is based in New York City. Jason Puris is the CEO and Founder.
###