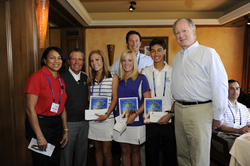 Your lives depend on the direction that you take. You get to determine your destiny. And golf, which you've obviously chosen, is a game that is played everywhere in the world…so you've chosen the right sport. I'm 74 and still playing
Pebble Beach, CA (Vocus) September 4, 2009
Unilever hosted a Leadership Forum today at Pebble Beach Golf Links and more than fifty participants representing Chapters of The First Tee were in attendance.
The forum "Seeing the Difference in You…Making a Difference for the Future!" concentrated on several themes that included health and wellness, environmental awareness and self-esteem. Executives from Unilever and Walmart conducted the sessions giving participants a real-world perspective on these topics, preparing them for the future and beyond.
The participants were selected to attend the Unilever Leadership Forum by meeting the following requirements:

Must be enrolled in the Birdie, Eagle or Ace level of the Life Skills curriculum of The First Tee;
Sophomore, Junior or Senior in High School;
On the A/B honor roll at school.
Following the forum, participants were treated to lunch and enjoyed a unique keynote address by World Golf Hall of Fame Member Gary Player. Player, well-known for his love of junior golf, health and wellness and overall responsibility to the earth, provided the participants with a spirited lesson to round out the morning's educational sessions.
Player told participants, "Your lives depend on the direction that you take. You get to determine your destiny. And golf, which you've obviously chosen, is a game that is played everywhere in the world…so you've chosen the right sport. I'm 74 and still playing," he added.
A special presentation was given to three outstanding participants of The First Tee who attended the Leadership Forum last year and went back to their communities to positively impact local charities. Receiving the Walmart Unilever Young Leaders Award were Camille Furgeson of The First Tee of Greater Sacramento for "Project Linus" and Bailey Furgeson, also of The First Tee of Greater Sacramento, for Senior L.I.F.E. Center of Loomis. Bobby Van Ornam of The First Tee of Fresno received an award for "Tree Fresno." These individuals were each awarded $1000 college scholarships.
As a grand finale, executives from Unilever announced that each young person attending today's event would have a chance to do good work in their own communities by utilizing a $1000 grant that they can donate to a charity of their choice.
"This leadership forum was exceptional and provided our participants with an opportunity to grow and prepare for tomorrow," said Joe Louis Barrow, Jr. CEO of The First Tee. "The commitment that both Walmart and Unilever have shown through their generous support and hosting events like this underscores their belief in our program," he added.
About The First Tee
The First Tee (http://www.thefirsttee.org) is an initiative of the World Golf Foundation, a 501(c)(3) nonprofit organization based in St. Augustine, FL at World Golf Village, home of the World Golf Hall of Fame. Its mission is to impact the lives of young people by providing learning facilities and educational programs that promote character development and life-enhancing values through the game of golf. Since its inception in 1997, The First Tee has introduced the game of golf and its values to more than 2.9 million participants in 49 states, over 2,800 elementary schools and five international locations - Canada, Manchester, England, Ireland, New Zealand and Singapore. Former President George H. W. Bush serves as honorary chairman. The First Tee Founding Partners are The Masters Tournament, LPGA, PGA of America, PGA TOUR and the USGA.
About Unilever
Unilever's mission is to add vitality to life. We meet everyday needs for nutrition, hygiene and personal care with brands that help people feel good, look good and get more out of life.Each day, around the world, consumers make 160 million decisions to purchase Unilever products.
In the United States, the portfolio includes major brand icons such as: Axe, Ben & Jerry's, Bertolli, Breyers, Caress, Country Crock, Degree, Dove personal care products, Hellmann's, Klondike, Knorr, Lipton, Popsicle, Promise, Q-Tips, Skippy, Slim-Fast, Suave, Sunsilk and Vaseline. All of the preceding brand names are registered trademarks of the Unilever Group of Companies. Dedicated to serving consumers and the communities where we live, work and play, Unilever employs nearly 12,000 people in both the United States and Puerto Rico - generating nearly $10 billion in sales in 2008. For more information, visit http://www.unileverusa.com.
Contact:
Nancy Seely
904/571-2690
# # #