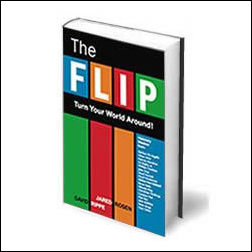 I'm Hip to The Flip
Cincinnati, OH (PRWEB) October 23, 2006
David Rippe and Jared Rosen, authors of The Flip -- Turn Your World Around, are pleased to announce a major contest for flipping your life from upside-down to Right Side Up.
Entrants who submit their story in essay or video form are registered to win a Personal Transformation Library with over 65 books, CDs, DVDs, tapes, and exercises from bestselling authors, spiritualists, experts and luminaries including Barbara De Angelis, Eckhart Tolle, John Gray, Byron Katie, Dr. Christiane Northrup, Candace Pert, Hazel Henderson, John Selby, Barbara Marx Hubbard and dozens of others.
David Rippe said, "In today's polarized age many of us feel we disconnected, isolated. But we are not alone, there are millions of us who have flipped our lives. As we share our stories we realize that we are more connected than we ever knew. We discover others have similar experiences and share our views. We learn that we have strength. We realize we are a formidable voice for positive change. That's why we created the I'm Hip to The Flip Contest."
"As an added incentive," David Rippe said, "the first 150 entries receive a copy of Macro Shift by Ervin Laszlo or Oneness by Rasha. Both are incredible books that can positively change your life."
Contest details can be found at http://www.theflip.net/contest or via contest host Urth.TV at http://www.Urth.TV/flip. David Rippe reiterated, "Your story can be about an aspect of your life that you flipped. It doesn't have to be a major thing. It can be subtle. It just has to matter to you. Everyone has a story that others want and need to hear."
It's that simple! No strings attached. Nothing to purchase. Visit http://www.theflip.net for complete contest rules.
Special Thanks and lots of love to the following wonderful organizations. We enthusiastically encourage everyone to frequent their web sites and participate in their offerings:
Urth.TV (host and sponsor)
Club of Budapest of the Americas
Evolve
Find Bliss
Hampton Roads Publishing
Institute of Noetic Sciences
Newstarget.com
ODE Magazine
OpEdNews.com
Planetlightworker.com
Waterside Productions
WorldChangingBusiness.com
World Puja
Local Sponsors (we're looking for more!)
The Aware Show, KPFK, 90.7 FM, Los Angeles, 98.7 FM, Santa Barbara
Frankie Boyer Show -- WBIX, 1060 AM, Boston
Kimberly Jaeger -- WZLX 100.7 FM Boston
Point of Light magazine -- Pittsburgh
And Extra Special Thanks to the kind souls at Urth.TV who are hosting the contest entries for all to see. We highly recommend joining Urth.TV. It's free!
For more information on The Flip, the "I'm Hip to The Flip" Contest or to interview the authors, please contact David Rippe at 513-253-4854.
# # #