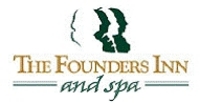 We've got our motors running and we'll be heading out on the hospitality highway to do our part in support of the 2010 Motorcycle Grand Tour of Virginia.
Virginia Beach, VA (Vocus) April 3, 2010
The Founders Inn and Spa is geared up and ready for visits from choppers, HOGs and tricked out rides. The Motorcycle Grand Tour of Virginia participants will seek to stamp their passports at The Founders Inn and Spa this year. Once they do, they'll receive a point and some perks. http://www.FoundersInn.com.
Tade Allen, director of sales and marketing, comments, "We've got our motors running and we'll be heading out on the hospitality highway to do our part in support of the 2010 Motorcycle Grand Tour of Virginia. It's fantastic to know motorcycle enthusiasts will take advantage of traveling our beautiful state. For the next several months, Virginia will be for motorcycle lovers too. We're excited to see the motorcycles lined up in our parking lot and we look forward to giving their riders excellent customer service."
An exclusive package, offered only to tour participants, includes overnight accommodations along with breakfast in the Swan Terrace the following morning. The package also offers parking for the motorcycles and a $25 gas card to help make the next day's trip a little easier.
About The 2010 Motorcycle Grand Tour of Virginia:
For a small registration fee, motorcycle enthusiasts receive a motorcycle passport, a ride brochure and a Grand Tour memento as they travel throughout Virginia. Riders will visit certain primary destinations to receive a designated passport stamp. Each stamp adds a specified number of points based on that destination's level of sponsorship and prizes donated. The number of points each rider collects throughout the duration of the tour will determine their eligibility for various prize drawings at the conclusion of the tour November 1, 2010.
This second annual event is a partnership between the Governor's Motorcycle Advisory Council, the Virginia Tourism Corporation, Virginia Motorcycle Dealers Association and the Virginia Hospitality and Travel Association in an effort to promote tourism, safety and awareness. A statewide promotion of Virginia's attractions, it features restaurants, motorcycle dealers and lodging facilities focused on the growing market of motorcycle riders. The grand tour provides tourism partners the opportunity to reach out to this emerging target market. The tour begins with an April 9-11 kick-off event held in conjunction with The Blue Ridge Bike Fest. http://www.vamotorcycletour.com
About The Founders Inn and Spa
Boasting old-world charm and the finest southern hospitality, The Founders Inn and Spa provides the appeal and warmth of a country inn, accented by beautiful antiques and historic artifacts, with a new $5 million full-service resort spa, grand scale pool featuring a circular slide and interactive fountains, luxurious amenities and award-winning cuisine. The Inn's 240 guestrooms and suites include High Speed Internet access, generous workspace and views of 26 landscaped acres. Select rooms include gas fireplaces, and views of the lake and formal gardens. The Founders Inn and Spa is located at 5641 Indian River Road in Virginia Beach near exit 286B off Interstate 64 East. For reservations and additional information, please call 800-926-4466 or visit http://www.foundersinn.com.
Benchmark Hospitality International is a leader in the management and marketing of resorts, conference centers, hotels, and Personal Luxury Hotels™. The independent company, launched in 1980, is a founding member of the International Association of Conference Centers. Benchmark Hospitality is a worldwide organization operating properties in major metropolitan and resort destinations. Benchmark's international headquarters is located in The Woodlands, Texas, near Houston. The company's northeast regional office is in New Jersey, with international offices in Tokyo, Japan, and Santiago, Chile. For the location of Benchmark's properties and additional information, visit http://www.benchmarkhospitality.com.
For More Information, Contact:
Tade Allen, Director of Sales and Marketing
(757) 366-5805
# # #