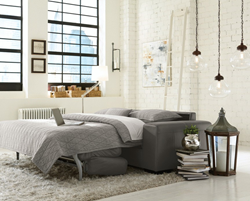 The Futon Shop specializes in custom made organic futon mattresses
San Francisco, Ca (PRWEB) May 19, 2015
TheFutonShop.com has released their new line of sofa bed replacement mattresses on line and in stores for Memorial Day, and announces its annual Memorial Day Sale.
The Futon Shop, an eco-friendly minded company that started hand-making futons in 1976, has been creating and promoting organic futon mattresses in San Francisco reaching thousands of happy customers.
The Futon Shop specializes in custom made organic futon mattresses and has created over 30 mattresses for couches that convert into beds and mattresses for sleeping. These organic mattresses have zero chemicals, and have options for all mattresses that zero petroleum, PBDE's, or pesticides. They use wool as a natural barrier to cover the fire retardant laws in California and use soy based foams to keep as natural as possible.
This spring, The Futon Shop is happy to present their organic and chemical free replacement mattresses. Nothing is more uncomfortable that when you go to visit family or friends and the guest pull-out bed is horribly uncomfortable. Often in regular sofa beds, the mattress is very thin with a spring in the center. Most people have a horror story everyone can relate to about the springs popping out or how there was no sleeping going on because of the awful pull out mattress they slept on. The Futon Shop not only sells quality luxury modern futon sofa beds, but now they are offering sofa beds with organic and latex sofa bed replacement mattresses. But if the sofa bed is not the problem, but the mattress inside need to be replaced then The Futon Shop is offering a few options as well as can customize any mattress imaginable. The Futon Shop can make high quality sofa bed mattresses that can be stored away or put in the sofa bed.
The Memorial Day sale ends the 25th of May, so check out The Futon Shop online or in any of our 10 stores.
About The Futon Shop:
The Futon Shop is a vertically integrated retailer that manufacturers over 33 organic and green mattresses from start to finish. The company dates back to 1976 led by Suzanne Diamond and her team of specialists dedicated to producing eco friendly furniture and bedding. Their mission is to produce the best eco-friendly, Organic and Natural futons, organic futon mattresses, futon covers for sofa beds, futon frames, and platform bed frames that promote better healthy living and a good night's sleep for all.