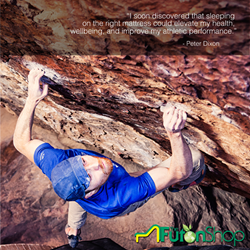 sleeping on the right mattress could elevate my health, well being, and improve my athletic performance."
San Francisco, Ca (PRWEB) August 11, 2015
Peter Dixon, the World Cup Climber, opens up about finding the right mattress to improve his performance with TheFutonShop.com new expanded line of chemical free futon mattresses. Peter Dixon, known for his healthy lifestyle as a vegan, began his journey into healthy mattress shopping. Dixon recently revealed that his new futon mattress from The Futon Shop has helped him improve his health, well being, and markedly improve his athletic performance in a recent article "Does Your Mattress Support Your Sport".
"I came across vital information about healthy mattresses from, The Futon Shop and discovered that sleeping on the right mattress could elevate my health, well being, and improve my athletic performance."
The futon mattresses made at The Futon Shop have been perfected to a science since 1976, and the organic mattresses and chemical free futon selection are hand made in San Francisco. There are many laws that are still being added and changed federally, but The Futon Shop has always been behind omitting pesticides, formaldehyde, petrochemicals, and toxic flame-retardants from mattresses.
What Dixon found while shopping around for a healthy mattress was that mattress stores have beds that secretly contain "chemical cocktails" that are dangerous for one's health. He also discovered through researching for a healthy mattress that most manufacturing processes for mattresses use harsh chemicals in the process of producing mattresses.
Dixon not only shopped around mattress stores, but he thoroughly researched through scientific studies finding a link with asthma, allergies and even cancer to the chemicals found in most mattresses. Dixon's experience at The Futon Shop was different then the rest of the mattress stores. He was greeted by an educated sales person that assisted him in making the best decision for his budget and lifestyle. The Futon Shop is a great resource for greening one's home with affordable prices.
About The Futon Shop
The Futon Shop is a long-standing manufacturer and retailer for over 35 years maintaining sustainable and organic practices. The Futon Shop cares about making premium futon mattresses and organic furniture that are healthy for their consumers and the environment. The Futon Shop has made it their mission to produce the best Eco-friendly furniture with organic alternatives to sofa beds, bed sets, modern furniture, organic futon mattresses, futon covers for sofa beds, futon frames, and platform bed frames. The Futon Shop always finds a way to invent new ways to provide healthy living options for their customers.