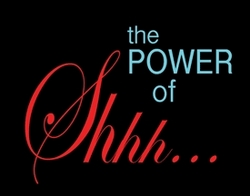 The Power of Shhh is a welcome dose of optimism in a world that suddenly seems beset with gloom and doom
Westport, CT (Vocus) February 4, 2009
When times turn tough, most people turn pessimistic. Inner voices tell themselves to quit. They let their fears and doubts spiral out of control. Instead, says authors Jim George and Bruce Kasanoff, they should quiet their doubts and tap into the power of optimism who wrote a new short story "The Power of Shhh" on Inauguration Day, as a response to President Obama's call for a "new era of responsibility."
"Most people," says Jim George, "Don't actually experience the world. Instead, they experience a world distorted by their attitudes, beliefs and fears. This 'fake' world often tells people that they are powerless, or that the challenge is too great." None of these statements are true, says George, and our natural state is to be optimistic.
Says Kasanoff, "Jim and I are born optimists who believe this nation is more than capable of stepping up to the challenges we face, and we wanted to do something right away to help." The Power of Shhh is available free online at http://www.thegoalmine.com/optimism.htm.
The eight-page story tells the inspiring stories of two remarkable women. Rosie Swale-Pope is a 61-year-old woman who ran around the world, taking the longest and coldest route possible. Even alone in Alaska, with no roads, no trails, and the temperature at minus 76 degrees, she remained optimistic. Rosie says, "People talk about mind over matter, and I believe in it, but you really have to dig deep. It's not enough just to think. You have to work past your limits. I actually don't think that people have any limitations."
Molly Hale broke her neck in a car accident, one so bad her caregivers said, "You just don't come back from an accident like this." Her doctors literally told Molly she was being too optimistic about her recovery. But Molly refused to accept her doctors' prognosis and created her own recuperation program. It has been a long, hard journey back, but today she can walk with support.
In a simple and uplifting manner, The Power of Shhh shows that we all possess the ability to overcome enormous challenges, if only we learn to be quiet and calm enough to discover our own innate optimism and strength.
The authors are currently seeking corporate partners willing to help distribute free copies of this uplifting story. "The Power of Shhh is a welcome dose of optimism in a world that suddenly seems beset with gloom and doom," says Kasanoff. "It's the type of positive message that leading organizations welcome, and we are looking for partners who want to inspire and empower their customers and employees."
To ensure that this story has an immediate and positive impact, the authors attached to the story a suggestion that readers consider supporting DonorsChoose.org, a non-profit that makes it easy for individuals to support under-funded classrooms. "In two minutes," says Kasanoff, "DonorsChoose lets you solve a problem that's been keeping an entire classroom of kids from learning. We're optimistic that by giving our readers an instant way to give back to the world around them, they will immediately discover the power they have to do good."
Digital copies of The Power of Shhh can be downloaded at http://www.thegoalmine.com/Shhh.pdf
The authors' admittedly optimistic goal is to distribute five million free copies of this story in 2009, and to generate over $50,000 in support for the non-profit organization DonorsChoose.org
About The Goal Mine:
The Goal Mine is a web site that helps people get what they want out of life. All the resources on the site are free of charge, and no advertising of any sort is allowed. The site was founded and is maintained by Jim George and Bruce Kasanoff. The URL is http://www.thegoalmine.com.
About DonorsChoose.org:
DonorsChoose.org is dedicated to addressing the scarcity and inequitable distribution of learning materials and experiences in our public schools. It improves public education by engaging citizens in an online marketplace where teachers describe and individuals can fund specific student projects. Learn more at http://www.donorschoose.org/about.html.
Contact:
Bruce Kasanoff
(203) 341-9448
bruce (at) thegoalmine.com
http://www.thegoalmine.com
###