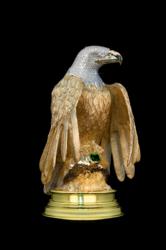 The Golden Eagle is unlike anything that anyone has ever seen – in any museum, anywhere in the world
London, England (PRWEB) June 22, 2012
The world's largest diamond encrusted solid gold sculpture The Golden Eagle, which is estimated by Sotheby's to have a market value of $6 million (all figures USD), is available for sale. It will give its next owner the pleasure of possessing a truly unique once-in-a-lifetime treasure, and the satisfaction of knowing that he or she has helped make a real difference in the fight against breast cancer.
The Golden Eagle was commissioned by Canadian entrepreneur, treasure hunt expert and philanthropist Ron Shore as part of an exhaustive multi-year personal mission to create the world's most unique treasure, and then donate the proceeds from its eventual sale to help fight breast cancer -- a disease that stole his sister away just two days after giving birth to her daughter.
Shore has agreed to part with The Golden Eagle for $1M off its estimated market value. Of the 5 million dollar selling price, Shore will give: 1 million dollars directly to the breast cancer charity of the buyer's choice. 1 million dollars will be given to the winner of his "The World's Greatest Treasure Hunt: Quest for the Golden Eagle" contest (learn more at http://www.TheGreatHunt.com). The remainder will go to cover contest promotion costs and other expenses in an effort to raise an additional 24 million dollars for cancer research.
In addition, Shore has earmarked a $100,000 finder's fee to any individual who helps facilitate the sale of The Golden Eagle by introducing the spectacular statue to its eventual benefactor.
"The Golden Eagle is unlike anything that anyone has ever seen – in any museum, anywhere in the world" commented Shore, who has been featured in a number of national and international interviews on-air and in print. "And while I truly love this unforgettable statue and have sacrificed an enormous amount of time and money to oversee its creation, the time has finally come for it to find its new owner, and fulfill its original intention: to help raise funds for breast cancer research. When my sister was tragically taken away just two days after giving birth to my niece, I made a promise that I would do whatever I could to strike the biggest possible blow in the fight against breast cancer. The sale of the Golden Eagle, will help make that happen."
The Golden Eagle, which is also thought to be the third largest gold sculpture in the world, is an awe inspiring one-of-a kind work of artistry and refined old world craftsmanship. Hand-crafted in 18kt white gold, 14kt white gold, 14kt yellow gold and 10k yellow gold, the free standing 26cm x 10cm eagle took more than 4,000 hours to create. Its head features a rhodium finish and is pave set with 763 round brilliant-cut diamonds, and its eyes are bezel set in white gold with two pear-shaped brilliant cut diamonds. Cradled above the 10kt yellow gold base of the statue is the famed 12.72 carat "Atocha Star" emerald, which was recovered in the 1980s from The Atocha, the Spanish treasure galleon that was lost in 1622.
Prospective buyers, members of the media and people who may wish to help are invited to contact Shore at 1-604-857-2488 or email at Ron(at)GreatHunt(dot)com.
More information on the Golden Eagle, and the remarkable story behind Shore's treasure, is available at http://www.TheGoldenEagle.ca.