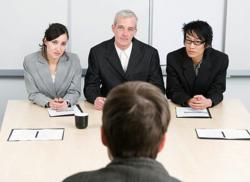 Interviewing is not only an art; it is a set of learned skills.
Anchorage, Alaska (PRWEB) October 09, 2012
"Across the desk is the person who can hire you. You've got minutes to make an impression, minutes to convince the interviewer you're the best candidate for the job." Dr. Lynne Curry, CEO of The Growth Company expresses these thoughts to her clients. With over thirty years of management and recruitment experience, Dr. Curry strives to help applicants get a better understanding of how important interviews are and the best ways in which to prepare. Today, Dr. Curry releases pertinent information to inquiring clients.
In today's competitive job environment, a person enhances their chances for getting a top job by preparation, presentation and skill. While they may be the best candidate the interviewer could hire, if they fail to sell themselves, they'll lose their chance to prove it.
Dr. Curry stresses to clients, "To increase your chance of winning the job you want, prepare." In addition to learning the time and place of the interview, she says interviewees should find out as much as they can about the company and the position. They can ask if there's a list of minimum job qualifications or a job description to look at prior to the interview. Call friends who have heard of the organization and ask them what they know.
As part of preparation, the interviewee can ask themselves what they can add to this organization, if selected. Dr. Curry advises a person to ask themselves what they'd most like about working for the organization and having this position. By doing so, they'll both help themselves make a decision concerning whether or not the interview is worth their time and also increase their chance of becoming hired. Most employers would rather hire someone who wants their job, in preference to someone who wants a job.
Next, Dr. Curry says, "Prepare yourself for the interview process by asking yourself questions that you might be asked by the interviewer." While it helps to answer these questions in their head or on paper, they'll give an even better interview if they read the questions into a tape recorder or have a friend ask the questions, so that they can have a live practice session.
Some common questions Dr. Curry has asked interviewees include: "In what ways will our company gain by hiring you?"; "How does your work experience help qualify you for our position?"; "What's a job accomplishment you're proud of?"; "How long would you plan to stay with this job?"; "What job situations motivate you? De-motivate you?"; "What are you looking for in and from a job?"
During the interview, honesty and enthusiasm count. While the interviewer will be asking specific questions, he or she will also be subjectively reacting to the interviewee. Dr. Curry reveals that if no answer comes quickly to mind, ask the interviewer if s/he would mind giving them (the interviewee) a short minute to consider the question. Interviewees hurt themselves by giving rapid, poorly considered answers.
Because the interview process is two-way, the interviewee may get the chance to ask questions. If given the opportunity, take it. Dr. Curry explains that questioning the interviewer helps the interviewee make an important choice: is this the position and company they want to join for one or more years?
Subsequently, if the interviewee hasn't already learned specifics about the job, ask what the goals and objectives or responsibilities are of the position that they are applying for. Other questions one might ask include: "What are the most important qualifications for this position?"; "Could you tell me what you are looking for in the person who will do this job?"; "Where does this position fit into the overall organization?", and "What are the department's plans?"
On the other hand, while many applicants make an excellent impression with the questions they ask, others lose potential positions, through self-serving questions. According to Dr. Curry questions that might raise red flags for some interviewers include: "when are pay raises possible" and "what benefits does this company offer an employee?" These questions may give the interviewer the impression that the interviewee cares not what they can do for the company but what the company can do for them.
Finally, Dr. Curry testifies, "Interviewing is not only an art; it is a set of learned skills." If a person is unemployed, interviewing is their job. Interviewing skills determine much of a person's future.