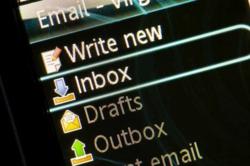 false sense of security, many write in emails what they wouldn't dare say in face-to- face interactions
(PRWEB) October 02, 2012
Lynne Curry, Ph.D., SPHR, C.E.O. of The Growth Company, issues a warning to employees everywhere, "Please…don't hit the send button--the consequences may bury you." Written in haste, emails memorialize typos, misspellings, hastily written accusations and snippy retorts to their authors' later regret. Dr. Curry has held numerous coaching sessions resulting from e-mails to co-workers that should not have been sent. Today, Dr. Curry is attempting to prevent further issues for employees everywhere.
"Before you press your finger consider -- what if your email takes an unintentional cyber-detour? Do you really want what you just wrote going out the way it looks?" asks Dr. Curry.
One specific incident she dealt with involves a man that was ticked off at his boss. This guy spent twenty minutes composing a "Letterman list" detailing his boss's top ten flaws, smiling as he hit send. Only minutes later he got the reaction he wanted when heard he heard hysterical laughter from his co-workers. Unfortunately the boss chose that minute to walk past, asking "What's so funny?" When an unprepared co-worker choked, the boss glanced at the co-worker's screen, said "Print that for me" and invited the sender in for a chat.
Another case was a girl that experienced her own version of a Freudian send. When she received a lengthy email from a lucrative but difficult to manage client she wrote "what an SOB," forwarding her comment and the offending email to her coworker. Unfortunately, she hit reply rather than forward. After she lost the client, she said "Okay, so he learned I couldn't stand him – it was the truth." Despite her brave front, the sender paid for her moment of truth with a lost client.
If anyone has ever experienced the sudden heartbeat cessation or whoosh of air from their lungs with the realization they sent an awkward email, Dr. Curry warns that everyone remember these safer truths:
Emails aren't speech.
First, Dr. Curry says that because emails stream from our fingers quickly, we treat them like speech rather than written documents. Unlike spoken words, which eventually dissipate even if remembered and passed on from one person to another, emails last forever, forwarded in their original glory. Save embarrassment by letting all emotional emails "sit" at least four hours before pressing send.
Emails reflect the sender
Second, Dr. Curry says a person wouldn't wear a stained shirt when they want to look their best. Don't then send emails to relative strangers with typos, misspellings and grammar gaffes.
Add politeness to emails with "thanks" and "please." Particularly if working in customer relations, remember to start with a friendly "Thanks for your inquiry" rather than an officious "Re: your email of 7/5."
Stop shouting in print
Third, Dr. Curry states that lured by a false sense of security, many write in emails what they wouldn't dare say in face-to- face interactions. Unfortunately, a person can't hit undo once they hit send and their provoking comments can lead to a unilateral "end of discussion."
She recently received an email from a candidate applying to an executive position for one of our client companies. Although he'd only sent his resume ten days earlier and we'd thanked him for his resume, this antsy applicant sent "SINCE I HAVEN'T HEARD FURTHER FROM YOU, I'LL ASSUME YOU AREN'T INTERESTED." Whoa – who said we hired for a $150K job within ten days? If a person is an "all capper" guy because they feel it makes a point, beware of the point being made.
Don't abuse send power
Fourth, Dr. Curry advises that when emailing others, don't send unannounced large attachments without compressing them or they may take forever to download, overloading a recipient's in-box, bouncing all their other email. Photos right off a camera are more than 1,000 pixels in width and transmit best when minimized to less than 600 pixels.
If using Return Receipt Request for all the emails being sent, realize many view this as intrusive. Save RRR for times when absolutely necessary to know the recipients opened the email.
When receiving an email sent to others, reduce email clutter by replying directly rather than "reply all" unless "all" need to know.
Forgive
Finally, Dr. Curry states when receiving a harshly worded or sloppy email, give the other person a break. Realize they hit send hastily and probably didn't mean to come across as they did. The person should avoid responding with a retort that makes them look equally juvenile.
And please…don't hit send until ready.