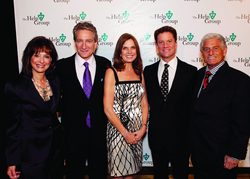 I know first-hand what an invaluable resource The Help Group is for children and families. My wife Teddi and I are so grateful that our daughter Mary attends a Help Group school and that we've had the opportunity to take part in The Help Group's autism awareness efforts.
Los Angeles (PRWEB) December 17, 2009
At its 13th annual Teddy Bear Ball, The Help Group honored three remarkable individuals. Hasbro President & CEO Brian Goldner received the Help Humanitarian Award in recognition of his far-reaching philanthropic leadership and commitment to children's causes; parent advocate Mary Urquhart received the Champion for Children Award in recognition of her heartfelt spirit of giving and volunteerism that has helped to create brighter futures for children with autism; and writer-director Max Mayer received the Spirit of Hope Award for raising important public awareness and understanding through his sensitive portrayal of a young man with Asperger's Disorder in his acclaimed motion picture "Adam".
The Teddy Bear Ball was co-chaired by Brian Grazer, Cheryl & Haim Saban, and Bill Urquhart. With more than 600 guests in attendance, this year's event took place at the Beverly Hilton Hotel's International Ballroom on December 7th and Major Sponsors included Hasbro Inc., Cheryl & Haim Saban – The Saban Family Foundation, Mary & Bill Urquhart, Keyes Automotive Group, The Coffee Bean & Tea Leaf, the Milken Family Foundation, WME Entertainment, Qantas Airlines and Universal Studios.
Ben Stiller lit up the evening with his warmth and humor. He sang an unforgettable impromptu rendition of Rudolf the Red-Nosed Reindeer with The Help Group children at their request. To recognize this year's honorees, he led the evening's tributes, highlighting their humanitarian spirit and introducing the retrospective of past honorees whose friendship and caring have touched the lives of many Help Group children. After the close of the curtain, Ben graciously stayed on to sign autographs and take photos with members of The Help Group Children's Choir and other guests.
Gary Cole, The Help Group's National Celebrity Spokesperson and parent of a child an autism spectrum disorder spoke of the important work of The Help Group saying, "I know first-hand what an invaluable resource The Help Group is for children and families. My wife Teddi and I are so grateful that our daughter Mary attends a Help Group school and that we've had the opportunity to take part in The Help Group's autism awareness efforts." He introduced The Help Group's new video, eloquently narrated by Good Morning America's Robin Roberts.
With the room still aglow from a rousing performance of a holiday medley by The Help Group Children's Choir and Louis Price, former lead singer of the Temptations, Gary H. Carmona, Help Group Chairman and Dr. Barbara Firestone, President & CEO thanked everyone for their generous support and commitment. They spoke of The Help Group's efforts on behalf of the children and presented awards to each of the honorees. Dr. Firestone remarked, "It's that special time of year when we take pause to think about the true meaning of the holiday season…the compassion and caring of our honorees Brian, Mary and Max give us great cause to celebrate."
Christine Taylor joined Gary Cole in a salute to The Coffee Bean & Tea Leaf, and its President & CEO, Mel Elias, recognizing eight consecutive years of support of The Help Group through its annual "Deck the Walls" holiday in-store giving program, currently in progress through January 5th and through hosting The Help Group's Autism Awareness Month campaign. During the spirited live auction segment, Dr. Susan Berman, Help Group COO and Dick Costello, Help Group Circle of Friends Philanthropic Board member introduced The Help Group's Opportunity Fund that drew very generous financial support from the audience. Raul Pastor, a Help Group graduate, movingly shared what the Opportunity Fund has meant to him.
With a musical tribute to the honorees, the multi-talented Zachary Levi ("Chuck"), joined by the Children's Choir, gave a heartwarming performance of Wonderful World. Zachary's easy charm and interaction with the kids created a very special moment that captured the spirit of the evening.
Margaret Loesch, President & CEO of the Discovery-Hasbro Joint Venture introduced Brian Goldner and lauded his professional and philanthropic achievements. In his acceptance remarks, Brian said, "Hasbro's employees have been a force in the playful development of the whole child and their families. Giving to kids and giving back to communities is in Hasbro's DNA. The Help Group is an organization that mirrors this commitment to children and families. It serves as a model that deserves all of our support. …This is an organization and a team that is all about creating a great future for every child." At the conclusion of his remarks, he surprised The Help Group with his announcement of Hasbro's generous donation of a state-of-the-art Boundless playground to The Help Group's new Autism Center opening in 2010.
With great poise, Christine Urquhart, teenage daughter of Mary Urquhart, lovingly introduced her Mom. Mary was joined on stage by her son Brian who has been the inspiration of all of her efforts on behalf of children with autism spectrum disorders. Brian will be graduating from The Help Group's Village Glen High School this coming spring. Addressing the audience Mary said, "As I look around the room, I am overwhelmed by the support of our friends…You are the reason that we have felt comfortable in every situation regardless of how difficult things have been at times. Throughout the last 18 years we could depend on your love and support. That means everything. …Thank you Bill, our friends, family and The Help Group."
"Adam" producer, Leslie Urdang introduced her colleague and friend, Max Mayer, and read a letter written by a young man with Asperger's Disorder who found hope in the film's message. In his acceptance remarks, Max shared, "I am deeply honored and humbled if our movie has helped in some small way to support people on the spectrum and those who love them...Thank you so much to everyone at The Help Group for your work, for your love and knowledge, for your perseverance and finally for your awe-inspiring desire to help."
For the grand finale, all of the honorees, celebrity guests and the children sang Winter Wonderland to a cheering audience ~ it was a truly memorable evening!
ABOUT THE HELP GROUP
Founded in 1975, The Help Group is the largest and most comprehensive nonprofit of its kind in the United States, serving children with a wide range of special needs related to autism spectrum disorders, learning disabilities, abuse and emotional challenges. The Help Group's seven specialized day schools offer pre-K through high school programs for more than 1,300 students, and its wide range of mental health and therapy services, child abuse and residential programs extend its reach to more than 6,000 children and their families each year. With over 800 staff members, The Help Group's state-of-the-art schools and programs are located on four major campuses in the Los Angeles area. Through outreach, parent and professional education efforts, The Help Group extends its reach to countless others nationally and in other parts of the world. http://www.thehelpgroup.org
MEDIA CONTACT
Lisa Manafian
Communications Director
818-779-5327
# # #