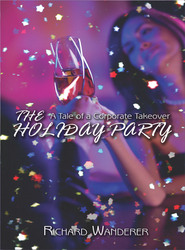 A sharply observed saga of workplace tyranny...the author really knows his territory
Los Angeles, California (PRWEB) October 12, 2010
While writing his recent novel, THE HOLIDAY PARTY (A Tale of a Corporate Takeover), Richard Wanderer extensively researched the Wicca religion for a unique aspect of his storyline. His conclusion that wiccans look like anyone contrasts with the implications of U.S. Senatorial candidate, Christine O'Donnell's TV commercial.
The author stated in a recent interview, "There is a great deal of confusion about the Wicca religion – motion pictures and TV programs have added to these misconceptions. My research has shown me that Wicca has often been mistaken for devil worship. However, it is a naturalist religion that has been around for many centuries and has nothing to do with satanic worship. In fact in my novel, I take the readers through a Manhattan coven meeting where the members look nothing like the classic Halloween witches. They look like everybody else."
U.S. Senatorial candidate, Christine O'Donnell, in a recent TV commercial in the state of Delaware, sweetly declares, "I am not a witch. I am nothing you've heard. I'm you." This ad dissociates her from witchcraft and implies wiccans appear different than other people. More than a decade ago, on a Bill Maher show, Ms. O'Donnell stated that though she never joined a coven she did date someone who belonged to one. She was spoofed recently on a Saturday Night Live program.
Wanderer, a California attorney, worked for over five decades in the advertising departments of major magazines and newspaper chains in New York City and Los Angeles. He wrote this contemporary fictional suspense novel that deals with the takeover of an ethical and benevolent family owned national magazine by a huge media conglomerate that immediately imposes its own draconian regime. Some of the novel's characters are members of a New York City coven. Kirkus Discoveries has called this novel, "A sharply observed saga of workplace tyranny … the author really knows his territory." Anita Finley, a columnist for the Miami Herald and publisher of her own magazine has called it, "A real page turner." The website for THE HOLIDAY PARTY (A Tale of a Corporate Takeover) is http://www.theholidayparty-ataleofacorporatetakeover.com. It is available at Amazon.com, via special order at major bookstores and it is now on Kindle, too.
# # #