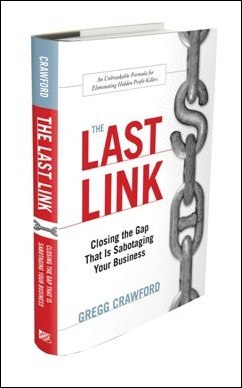 The Last Link: Closing The Gap That Is Sabotaging Your Business.
San Francisco, CA (PRWEB) March 19, 2007
Business-book readers, and an avid base of "in the know" managers, have propelled Gregg Crawford's innovative new business book "THE LAST LINK: Closing The Gap That Is Sabotaging Your Business" (Greenleaf Book Group Press, $21.95) onto four major bestseller lists.
The book debuts at #3 on "The Wall Street Journal" business bestseller list, and #7 on its non-fiction bestseller list. It debuts at #5 on "The New York Times" hardcover advice bestseller list. It has also propelled to #3 on the Amazon overall bestseller list and has debuted at #3 on the "USA Today" Money bestseller list.
In his new book, leading sales management consultant Gregg Crawford shares the techniques he and his firm, BayGroup International, have used to help Hewlett-Packard, AT&T, American Express, T-Mobile USA, Owens Corning, Autodesk, UPS and countless others.
He reveals, in "The Last Link," why most corporate strategies fail at the point where the sales force meets the customer, and he provides a concrete multi-layered solution that focuses on the point of customer interface.
"There are profit-killers present in most Fortune 500 companies," says Crawford, "The same problems eat away at their margins and revenue. There is often a gap in the sales execution chain and 'The Last Link' talks to global corporations about how they can finally find the missing link. I'm very pleased that people are embracing its message."
Gregg Crawford is the founder, President and CEO of BayGroup International, based in Larkspur, California. More than 250,000 professionals from over 400 organizations have participated in the initiatives of BayGroup International, a global consulting and performance improvement firm that has helped many Fortune 500 corporations over the past quarter-century to recapture profit-loss, close the gap between strategy articulation and strategy execution, and expand and grow aggressively.
Crawford brings together the strategy cooked up in the C-Suite with the work of the sales people in the trenches, and provides a cohesive plan to increase top and bottom line growth. Among the tools utilized are the following:
The 3-D Model -- Dialogue, Data, Discipline.
Pivotal Agreements - the six to eight key agreements that will determine the amount of revenue and profit that will be realized from the sales process.
Dialogue Map - that is focused on executing strategy and making Pivotal Agreements.
Establishing "process metrics" to measure and evaluate the success or failure of the Strategy Execution Discipline.
Creating an executive blue print and alignment within a company.
"The Last Link" helps in five key areas:
Execution of a corporate strategy (at the point of customer contact, where revenue and margins are optimized)
Sales and service profitability
Cost containment
Cross-functional team effectiveness
Strategic alliance and merger performance
Unlike most business books on the market today that provide non-application oriented text that may include case studies and theory but lack any information about "how to do" anything. "The Last Link" is a book loaded with real content about what it takes to execute strategy, which leads to revenue and margin optimization.
"If you're not making your numbers," concludes Crawford, "chances are you're missing the last link. Once you understand how to execute the strategy you've devised, you will finally close the gap."
ABOUT GREGG CRAWFORD
Gregg Crawford is the author of a new book (Greenleaf Book Group, March 2007), "The Last Link: Closing The Gap That Is Sabotaging Your Business." It is the product of his work at the California-based BayGroup International (http://www.baygroup.com/), a global consulting and performance improvement firm he established in 1980.
For the past quarter century, he and his global firm have worked with some of the largest companies in the world, including Fortune 500 industry leaders. His organization has deployed their customized to the client strategy execution methodology across sales forces for numerous companies, including global conglomerates such as Hewlett-Packard. Some of his firm's clients have been with him for decades, working through changing market conditions, growth challenges, increased competition, and eventual mergers and acquisitions.
A sampling of BayGroup International's top clients includes: American Express, AT&T, Autodesk, Cisco Systems, Dell Inc., Hershey Foods, Microsoft, NEC, Owens Corning, T-Mobile USA, UPS, Oracle, Rockwell Automation, Sodexho, Solectron, General Electric, and Agilent Technologies.
As an organizational consulting, sales, and marketing expert, Crawford has led his organization to rapid growth and global expansion. His performance improvement firm has helped thousands of corporate executives execute strategy quickly, profitably, and with high impact.
BayGroup International's client base is in technology, telecommunications, pharmaceuticals, transportation, consumer products, insurance and financial services industries. Crawford's work has been featured in the media, including: Sales & Marketing Excellence, Training & Development magazine, Sales & Marketing Management magazine, and ExecuNet.
BayGroup International, recognized throughout the world as a premier strategy execution consulting and performance improvement firm focusing on enhancing organizational profitability and shareholder value, has helped with organizational and revenue growth in Europe, Latin America, Middle East, Japan, the Asia Pacific region, and Canada.
Crawford, 58, earned a BS degree from Indiana University. As an entrepreneur, he led the start up of two successful companies, which he later sold. In 1980 he founded BayGroup International. He now serves on the Board of Directors of the Center for Telecom Management at the USC Marshall Business School.
Contact:
Planned Television Arts
Alan Fox
Tel 212-593-5851
foxa(at)plannedtvarts.com
###