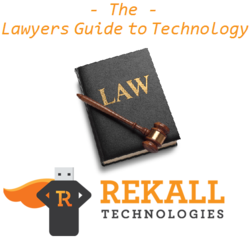 This audiobook will save you money & increase firm productivity.
Hazlet, NJ (PRWEB) August 21, 2012
There is no doubt that technology drives today's legal industry and it's important that attorneys have technology resources to rely on when looking to grow their firms. The Lawyer's Guide to Technology is that exact resource that aids today's modern attorneys build their firm. How are lawyers supposed to know which data backup works best, or what types of security their firm needs in order to protect client data? How are lawyers supposed to know the benefits of a corporate email system of why spam filtering is important? Most of the time firms take a gamble, hire an I.T. services company and hope for the best. They let the I.T. company dictate firm needs while owners and partners trust a total stranger to get their firm to the next level. This audiobook removes the blinders associated with law firm technology. It gives firm owners and partners a free education in layman terms, technology confidence, and the ability to intelligently make technology decisions based on firm needs. It makes firm delegates part of the process, more comfortable with changing technologies, and helps lower the intimidation factor often associated with technology.
The lawyers guide is meant for firms both large and small. The guide even touches on technology budgets and what law firms should be spending depending on firm size. For small to medium firms there are even free solutions, all the while explaining benefits and functionality. It's a real world look at technology in the legal industry, changes that have occurred over the years, and new affordable solutions that used to be unattainable by small to medium firms.
The guide doesn't assume that listeners know the basics. For the purpose of education, the guide expands on all basic technology principals, for example, chapter one details email solutions. While everyone has worked with email, most have not been informed about adequate spam filtering services. This expansion of basics can also be found within chapter five. While most know that they must protect their client and firm data, law firms most often rely on antivirus as primary protection practice. What is not common knowledge is that antivirus is the weakest link in the chain of security and offers little to no protections against hacker intrusion. The guide explains the basics, but expands on them for total understanding and success.
Rekall Technologies provides technology services to law firms and other professional service businesses within New Jersey. Their technology solutions are utilized in firms of all sizes, from four users to fifty. Rekall Technologies was founded by Ross Siroti after working extensively with law firm technologies for other technology service companies. Due to previous I.T. service experiences, Rekall's core strengths revolve around reliability, responsiveness and results. Rekall is totally client driven preferring phone calls to emails and responding to support requests within 10 minutes on average. The overall goal of Rekall Technologies is that their clients grow and reach their goals without annoying technology setbacks.