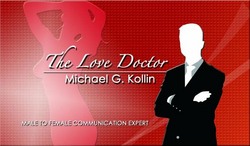 Men and women communicate in two completely different, hidden sub languages: the direct, external male language, and the indirect, internal female language. What that means is that women are literally speaking a language that men don't understand
San Rafael, CA (PRWEB) January 13, 2009
Michael Kollin, "The Love Doctor," knows that many men are clueless when it comes to communicating with women, seducing women and turning them on. Added to this is the fact that 90 percent of fights between men and women take place because the participants literally speak two different languages. With a new series of seminars, Kollin is set to offer men practical advice about the communication differences between genders, all in an effort to positively influence their pickup skills and relationships.
The seminars will be held as follows:

Intro Seminars: Jan. 21, 23, 30 Marin county, CA; Feb. 4 Marin county, CA
Valentines Seminar For couples: Feb. 6-7 Marin county, CA
Seminars: Feb. 12-15 San Francisco; Feb. 19-22 San Francisco; March 5-8 San Francisco; March 19-22 San Francisco; April 9 - 12 Los Angeles; April 16-19 San Diego; May 7-10 San Francisco; May 22 - 25 Las Vegas; June 4 - 7 Honolulu/Waikiki
"Men and women communicate in two completely different, hidden sub languages: the direct, external male language, and the indirect, internal female language. What that means is that women are literally speaking a language that men don't understand," Kollin says. "On top of that, the male language is a very boring language to the female mating system. In other words, you better learn her hidden language if you want to turn her on or keep the romance alive in the bedroom."
In his seminars "How to Crack the Chick Code," Kollin will teach single men what women really want. The seminars will focus on the discovery of the two different languages/codes used by men and women and on developing a greater understanding of how women are seduced. With "How to Crack the Chick Code," attendees will learn how to communicate sexuality to women in the female language, but in a way that allows them to be themselves.
"Men who participate in 'How to Crack the Chick Code' will be more confident in approaching women and know that they are using a proven approach to communication, without having to worry about memorizing a bunch of corny lines," Kollin says.
Two female cues that Kollin discusses in "How to Crack the Chick Code" are body language and directness.
Kollin says women tend to think in Double Pictures. What that means is women beat around the bush when it comes to romance and seduction. Women think men know how to do this and don't understand why they don't do it. Often, Kollin says, women get mad thinking that men are lazy or stupid. The truth is men don't speak this language. In fact, this language doesn't even come up on their radar system. Men don't know that they don't know.
"The hidden internal female language says it's OK to be sexy - but never say directly, 'I want to have sex'," Kollin says. "Indirect sexual signals are part of the Female Code, and women use these signals to attract their mate."
Kollin also says women have a highly constructed body language, including a developed system of sex signals that other women are distinctly clear of and understand, but that men are oblivious to. Many times a woman will use indirect body language to attract a man's attention; Kollin says what the woman is really doing is flirting and being seductive, saying, "Hey, pick me up!" For example, when a woman looks down and away, she is saying, "come and approach me."
"It's OK to flirt and be seductive, as long as it's done in the Female Code," Kollin says. "Learn this language and you will add romance, passion and pleasure, not to mention deep love, to your relationships and life!"
For more information on Michael Kollin and his upcoming seminars, visit http://www.MikeKollin.com .
About Michael Kollin:
Michael Kollin, "The Love Doctor," is a Professional Speaker, Life Coach, Master Hypno-Therapist, and Communication Expert who has dedicated 17 years of his life in the Personal Development field, mastering The Art of Human Development and Change Technologies. Kollin holds more than 31 certifications including training with Tony Robbins and a multitude of other world class trainers, including a Buddhist monk from Laos, Southeast Asia.
As the Founder and CEO of MGK Enterprises, Kollin has truly discovered The Answer, and created revolutionary techniques that finally help men and women truly understand each other, so you can connect on a much deeper level, mentally and emotionally. His goal is to have men and women fall deeply in love and have more emotionally fulfilling experiences.
Contact:
Cindy Nguyen
415.456.8558
ChickCode (at) MikeKollin (dot) com
###