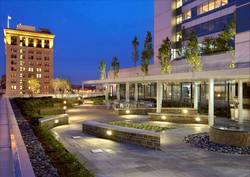 The new hospital is designed to maximize the potential of day lit spaces, provide connections to the outside environment. The gardens will provide a wonderful spiritual oasis for patients and staff.
Baltimore, MD (Vocus) September 23, 2010
In fall of 2007, Mercy Medical Center received the largest philanthropic gift in the hospital's history to construct a new, $400+ million, 20-story hospital. Three years later, construction of that hospital—The Mary Catherine Bunting Center—is nearly complete and will officially open its doors on Sunday, Dec. 19, 2010.
Featuring spacious, private rooms for all patients; a 2-story atrium lobby, and state-of-the-art operating rooms with advanced technology, including robotics, the Mary Catherine Bunting Center is also a testament to Mercy's commitment to the environment and to finding ways to enhance patient recovery.
"The most visible element of the new hospital's green design are the three rooftop gardens on the 8th, 9th and 10th floors. The gardens cover half of the roof's surface. Not only do these gardens provide a place for respite and meditation, they help reduce the amount of energy needed to cool the hospital's interior," said Thomas R. Mullen, President and CEO, Mercy Medical Center.
Other "heat reducing" elements of the Bunting Center's sustainable design include low-heat absorbing paving and shaded patient drop-off areas.
"Location plays an important role in green or 'sustainable' design," said James Curran, AIA, director of the center's architectural firm, Ellerbe Becket. "Both the Green Guide to Healthcare and the U.S. Green Building Council strongly advocate siting buildings within an urban versus a rural area. This reduces the impact on wetlands, agricultural lands and open spaces, so the Bunting Center is ideally situated in the heart of the city. It is also accessible to public transportation, which reduces pollution. Mercy's commitment to keeping the new hospital in downtown Baltimore is its strongest environmental legacy," he said.
In addition to location, The Mary Catherine Bunting Center features concrete, brick, glass and metal from regional sources.
"In fact, when the old Pleasant Street garage was imploded to make way for the new Bunting Center, all the old concrete was recycled for reuse—some of which was used in building the new hospital," said Michael Baldwin, Mercy Vice President of Construction and Property Management. According to Baldwin, 27,500 tons of concrete and 100 tons of metal rebar were recycled from the old garage.
Outside air is used for cooling the building when temperatures are appropriate; energy efficient systems have been installed to cool or warm air. Natural light from large windows saves on lighting costs while providing a pleasing connection to the outdoors. Approximately 95 percent of lighting inside the Bunting Center is fluorescent or compact fluorescent lighting which requires less electricity than standard bulbs.
"The benefits of natural light go beyond energy savings—these include improved physiological and psychological states for both patients and staff. Day lighting can reduce the stress experienced by caregivers, patients and families. The new hospital is designed to maximize the potential of day lit spaces, provide connections to the outside environment. The gardens will provide a wonderful spiritual oasis for patients and staff," said Dr. Kathy J. Helzlsouer, Director of Prevention and Research at Mercy.
The Bunting Center's main lobby, café, Chapel of Light, elevator lobbies, waiting rooms, post surgical recovery areas, inpatient rooms, nursing unit corridors, staff lounges and sleep rooms are all designed to maximize exterior views.
To reduce water waste, the Bunting Center is fitted with water conserving plumbing fixtures and sensor operated faucets. Hot water recirculation and non-chemical cooling tower water treatment are also featured.
"Chlorofluorocarbons or CFCs in refrigerants are a major cause of serious environmental and health problems. CFCs destroy the ozone layer which protects us against ultraviolet radiation. The heating, ventilation, air conditioning and refrigeration equipment within the Bunting Center has zero use of CFC-based refrigerants," Curran said.
Mr. Mullen also cited Mercy's "other green initiatives" which include programs to reduce medical waste; recycling (including paper, cardboard, beverage containers, batteries, printer cartridges, construction and demolition debris, etc); food composting; phase out and replacement of any items containing mercury; use of green cleaning chemicals and micro-fiber mops; discontinuance of Styrofoam products; purchase of locally grown produce and organics; recycling of kitchen waste; assisting physician officers in going paperless through use of electronic health records (EHR), etc.
"At Mercy, we are committed not only to providing the highest quality health care, but to preserving and protecting the natural resources of our community. The Mary Catherine Bunting Center is indicative of this commitment to both patient health and the environment," Mr. Mullen said.
Editor's Note: Photographs of the Bunting Center rooftop gardens by Patrick Ross
CONTACT: Dan Collins
410-332-9714
# # #