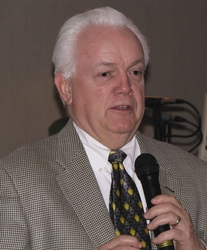 I appreciate the opportunity to both learn and teach with such a veteran group of experts.
Oxford, England (Vocus) August 4, 2009 -
Dan McNeill, CEO and founder of The McNeill Group, an international executive coaching and leadership development firm, accepts an invitation to lecture at Oxford University's St. Anne's College in Oxford, England. McNeill was selected for his extensive expertise in the field of corporate transformation and executive coaching. As a pioneer in the industry, McNeill has worked in the field for over twenty years.
McNeill will join a select group of experts that are attending Target Training International's Chairman's Club retreat. This is an international group of experts in the use of psychometric instruments used in support of various commercial and industrial applications; the group is known for their leading edge thinking in the area of emotional intelligence. McNeill will be leading a guided inquiry into the nature of emotions, as well as presenting tools for 'the anatomy of an emotion' used in the executive coaching profession. McNeill said, "I appreciate the opportunity to both learn and teach with such a veteran group of experts."
The McNeill Group is an international company with certified executive coaches who typically have twenty+ years of corporate experience before entering the field. These executive coaches combine their coaching training, corporate experience and proprietary TMG cultural transformational technology to support their client base in accomplishing the following:

A foundation of trust by all leaders
Authentic communication throughout the organization
Unpredictably high sales results
Bottom line profits
Other Quantum Leap Results throughout the organization
The McNeill Group has offices located in Atlanta, Boston, Chicago, Dallas, Denver, Houston, Los Angeles, Miami, New York City, Philadelphia, San Diego, Santa Cruz, Scottsdale, Toronto and coaching partners in Europe and South America.
About Dan McNeill: Dan is a pioneer in the field of executive coaching. His mentor was no less than Thomas J. Leonard , the founder of Coach University and the International Coach Federation , two of the most respected organizations in the field. Dan has spent over 18 years as an executive coach and 21 years in sales and marketing and sales and marketing management. Dan has worked with top executives at organizations such as AT&T, IBM, Florida Power & Light, Philadelphia Power & Light, Lucent Technologies and others. Dan's executive experience has focused on high-tech firms; from multi-billion dollar corporations to entrepreneurial ventures - one in which he helped a company grow from $1 million to $60 million in sales in less than four years.
About The McNeill Group: TMG is comprised of experienced and award-winning Executive Coaches, most of whom have 20+ years experience in corporate America. TMG joins forces with organizations to generate Quantum Leap Results for senior executives, managers, their teams and their shareholders. TMG's services include a range of offerings from one-on-one executive coaching to large leadership development initiatives.
Contact:
Devany McNeill
Phone: 303-717-0939
http://www.mcneillgroup.com
# # #