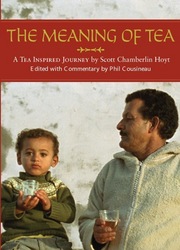 Our dream is to open the hearts and souls of those seeking fresh insight about the art of living in today's increasingly virtual society
New York, NY (PRWEB) August 25, 2009
An illuminating new book reveals timeless insights into the health and lifestyle benefits of the 5,000 year-old tea drinking tradition through interviews with tea lovers, growers, tasters, scholars and experts from eight countries. An exploration of the history, health benefits, rituals, spirituality and simple pure enjoyment of tea, The Meaning of Tea: A Tea Inspired Journey, by Scott Chamberlin Hoyt, edited and with commentary by noted author Phil Cousineau, offers unprecedented lifestyle wisdom ideally suited for our modern culture facing the stress of economic uncertainty.
Culled from more than 50 conversations with tea pickers and plantation owners, street sellers, traders, teapot makers and eloquent tea scholars from many places where tea is revered--from India to Ireland and Taiwan to Tea, South Dakota--readers learn about how tea has brought peace, calm, health, friendship and often wisdom into their lives. The Meaning of Tea makes clear, that although tea is more popular than ever--the wholesale value of the U.S. tea industry has increased more than 400% since 1990*--it is still an underutilized source of health, solace, and friendship for the modern world.
Scott Chamberlin Hoyt, director of the Meaning of Tea project, is a man on a mission to spread the meaning of tea. "Our dream is to open the hearts and souls of those seeking fresh insight about the art of living in today's increasingly virtual society," he reflects. "The Meaning of Tea project offers an unprecedented range of perspectives in an effort to enrich lives and broaden human awareness. We sincerely believe that through our work, the great and often overlooked mysteries of tea may become available to the larger community around the world."
"When we drink tea with others we shorten the distance between people," reveals Feng Ming-Chung, a grower of Bao Zhong tea in The Meaning of Tea. Beyond its social virtues, such as companionship and aesthetic pleasure, tea has been credited as a remedy for everyday concerns, such as sluggishness, lassitude, fogginess, and lack of alertness and concentration. In fact, in one of the very first texts that mention tea, the classic Shen Nong Herbal, it is written, "Drinking it one can think quicker, sleep less, move lighter, and see clearer."
In The Meaning of Tea, tea farmer Wu Sheng-Ben from Taiwan brings a unique insight into the restorative powers of tea when he recommends people focus on their heart when they drink tea. For him, health benefits are primary, emphasizing how it reduces the risk of diabetes, bringing a sheen to the skin, and rejuvenates the drinker by way of its detoxifying properties. Mr. Ben insists that tea drinking also encourages friendship because it calms the spirits and lessens the tendency toward anger in human interactions, which he feels is the most important of all its benefits.
And we learn that tea can "expel the dourness," the gloominess or sullenness that can make our hearts heavy. Tea affects our moods, by dint of its sheer chemistry; but also by simplifying our lives, allowing room for everyday pleasure, and by "inducing inspiration," in the words of James Norwood Pratt, a highly respected American tea scholar in The Meaning of Tea. Pratt believes that tea has been one of the great "civilizing forces" in human history, serving as "our solace in solitude," and inviting us in to participate in "the oldest fraternity on the planet," those people whose lives have been transformed by tea.
Illustrated with more than 150 photographs, The Meaning of Tea celebrates tea as the beverage of choice of civilized cultures for thousands of years. Editor Phil Cousineau says there is no better time for the rest of us to adapt the practices of tea drinkers, "Considering that the fallout of our weakened economy includes millions of stressed-out, overstretched people, this book offers a simple avenue to wellness, calm and meaning through tea." *Source: Tea Association of the U.S.A.
About The Meaning of Tea Project
The Meaning of Tea project is an ongoing, tea-inspired journey that celebrates the history, rituals, spirituality and simple pure enjoyment of tea through the eyes of tea lovers from many places around the world. The project aims to bring to light the mysteries of the world's favorite beverage to larger audiences, and, as tea has done for the last fifty centuries, to stimulate health, friendship and community. The Meaning of Tea: A Tea Inspired Journey (ISBN-13 978-0-615-20442-0; $24.95; Trade Paperback with French Flaps; 362 pp; 150 photographs; Talking Leaves Press; September 2009), is a collection of insights about tea from around the world. The feature-length documentary that inspired the book, also titled The Meaning of Tea (ISBN 978-0-615-20441-3; $24.95; 74 minutes; Tea Dragon Films; 2008), is a poignant search through India, Japan, Taiwan, Morocco, England, France, Ireland, and even Tea, South Dakota for glimpses into the secret character of tea. For more information and to view additional movie trailers, visit The Meaning of Tea Web site. The Meaning of Tea's soundtrack, Music of Tea (ISBN 978-0-615-20443-7; $14.95; 2008), is a compilation of tea-inspired world music including tracks composed by Joel Douek and Eric Czar and featuring the song "Marco Polo" written and performed by Loreena McKennitt. To learn about upcoming film screenings and author events, visit The Meaning of Tea on Facebook or follow us on Twitter.
Tour Dates:
Scott Chamberlin Hoyt and Phil Cousineau will be in the San Francisco Bay Area September 4 through September 10, 2009, and New York, NY October 14 through October 19, 2009, for booksigning and screening events. To schedule an interview and/or to request a review copy of The Meaning of Tea book or film, please send an e-mail to the press contact.
To Order:
To purchase a book, DVD or CD, visit The Meaning of Tea online store. If you are a retailer or wholesaler, please call Tea Dragon Films at 212-691-8899.
###