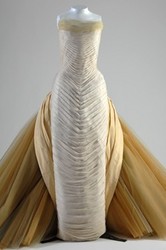 The wealth of haute couture in this collection testifies to the style of generations of Chicagoans
New York, NY (Vocus) August 30, 2007
Visitors to The Museum at the Fashion Institute of Technology (FIT) will have a rare opportunity this fall to view 50 examples of haute couture from the Chicago History Museum. Chic Chicago: Couture Treasures from the Chicago History Museum, on display October 12 through January 5, will showcase fashions ranging from Gilded Age gowns of the 19th century by Worth and Pingat to modern masterpieces by Chanel, Vionnet, and Chicago's own greats, Mainbocher and Charles James, who opened his first hat shop there in 1926 at the age of 19.
The History Museum's costume collection, which encompasses more than 50,000 men's, women's, and children's garments and accessories, is considered one of the nation's premier repositories of fashion and everyday clothing. "The museum holds one of the largest and oldest costume collections comprised of not only couture pieces, but those worn by everyday Americans," said Tim Long, costume curator at the Chicago History Museum. In addition to Chicago fashion, the collection also holds American history materials including clothing worn by George Washington, John Adams, Abraham Lincoln, and Mary Todd Lincoln. "The pieces in the collection coming to FIT are unique because they are not only couture, but we also know the history and the lives of the individuals who wore them."
Although this treasure trove is well known in Chicago, only a few pieces have come to New York City. Two dresses from the collection were seen in the recent exhibition, Poiret: King of Fashion, at The Metropolitan Museum of Art.
"The wealth of haute couture in this collection testifies to the style of generations of Chicagoans," said Dr. Valerie Steele, director and chief curator of The Museum at FIT. Highlights include a black velvet Balenciaga evening gown worn by Clare Booth Luce; an off-white silk crepe wedding dress trimmed with lace, net, and silver lamé by Lanvin, worn by Mrs. Robert McCormick Adams, wife of the publisher of the Chicago Tribune; and several lavishly embroidered Callot Soeurs dresses from the wardrobe of Mrs. Potter Palmer II, artist, social leader, philanthropist, and wife of Potter Palmer II.
Other highlights of the exhibition include a white velvet Chanel evening gown with rhinestones and crystal bead trim worn by Mrs. C. Phillip Miller, granddaughter of George Pullman, inventor of the Pullman railroad car; and a red silk taffeta Dior cocktail dress, worn by the choreographer and dancer Ruth Page.
Chic Chicago: Couture Treasures from the Chicago History Museum has been organized by The Museum at FIT and the Chicago History Museum. Co-curators are Timothy Long and Dr. Steele, who have identified outstanding examples of clothing that triumph as art, history, and fashion. Chic Chicago is scheduled to travel to the Chicago History Museum in September 2008.
For further press information, contact the Office of College Relations at
(212) 217-7642 or press @ fitnyc.edu. Visuals are available upon request.
The Museum at FIT is located on the southwest corner of Seventh Avenue at 27th Street. Exhibition hours are Tuesday through Friday, noon to 8 pm; Saturday 10 am to 5pm; closed Sundays, Mondays, and legal holidays. Admission is free. For museum information call (212) 217-4558 or go to: http://www.fitnyc.edu/museum.
The Chicago History Museum, a major museum and research center for Chicago and American history, is located at 1601 N. Clark Street. Admission to the Museum is $14 adults with audio tour, $12 seniors/students with audio tour, free for children 12 years and younger. General admission is free on Mondays. Please call 312.642.4600 or visit us at http://www.chicagohistory.org. The Chicago History Museum is affiliated with the Chicago Historical Society and acknowledges the Chicago Park District's generous support of all the museum's activities.
Contacts:
Loretta Lawrence Keane
VP for Communications and External Relations
Brenda Pérez
Director of Media Relations
(212) 217-7642
# # #