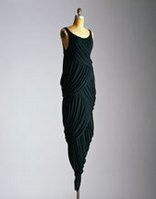 Ferndale, WA (Vocus) March 26, 2009
The artistry of Isabel Toledo will be saluted in Isabel Toledo: Fashion from the Inside Out, presented by The Museum at the Fashion Institute of Technology from June 17 to September 26, 2009. This mid-career retrospective will display approximately 70 iconic looks from the mid- 1980s to the present, including pieces from Toledo's highly praised 2007-2008 collections as creative director of Anne Klein.
Toledo is often described as a "designer's designer" and a "cult figure in fashion." Francisco Costa of Calvin Klein calls her an "incredible talent," while Narciso Rodriguez praises the "unique beauty" of her creations, adding that "she is, by far, the designer I admire most today." Other admirers include André Leon Talley of Vogue and Glenda Bailey of Harper's Bazaar. First Lady Michelle Obama famously wore an Isabel Toledo ensemble to the 2009 Inauguration. Toledo is the recipient of numerous honors, including FIT's Couture Council Award for Artistry of Fashion in 2008.
Isabel Toledo: Fashion from the Inside Out is organized by Dr. Valerie Steele, director and chief curator of The Museum at FIT, and Patricia Mears, deputy director of the museum. They will also co-author the accompanying book, to be published by Yale University Press. Charles B. Froom will design the exhibition. Support has been provided by the Couture Council of the Museum at FIT.
Born in Cuba in 1961, Isabel Toledo learned to sew as a child. Fascinated by her grandmother's sewing machine, she became committed to mastering the techniques of fine dressmaking. After moving to the United States as a child, she met her future husband, artist and illustrator Ruben Toledo, with whom she works in close collaboration. Toledo held her first fashion show in 1985 and was immediately heralded by Vogue as a great new talent. Her focus on technique, her willingness to experiment, and her strong personal vision make her work stand out.
Toledo does not sketch, as most fashion designers do; instead, she uses construction as the point of departure for each of her designs. Each nascent idea begins as a three-dimensional vision that evolves as Toledo manipulates fabric and cuts patterns. She works closely with her husband to give her visions shape, gesturing to show how a fabric should fall. "I think of it as fashion from the inside out," she has said. "I can describe an idea or even a feeling to Ruben, and he'll sketch it."
Toledo insists that she is not a fashion designer, but rather "a seamstress" who thoroughly immerses herself in the technique of creating clothes. As a result, she is one of only a handful of genuinely innovative fashion creators in a business dominated by stylists and trends. Toledo creates "demi-couture" by blending traditional, custom-made haute couture with ready-to-wear accessibility.
The major themes of the exhibition are based on categories the Toledos created to describe the extraordinary range of creative styles, influences, techniques, and materials that constitute Isabel Toledo's vast body of work. The category Origami, for example, includes garments that began as simple geometric shapes and were then folded to form three-dimensional "sculptural" garments. The category Suspension refers to her jersey and taffeta dresses that hang effortlessly from thin cords of fabric or cables. A third category, Liquid Architecture, represents her jersey dresses that fall in sensual folds against the body.
Additional categories are Shadow, Shape, Organic Geometry, and Manipulated Surfaces. The exhibition will also include drawings by Ruben Toledo that support and illuminate Isabel Toledo's work.
A FASHION MUSEUM
The Museum at FIT is the only museum in New York City dedicated solely to the art of fashion. Best known for its innovative and award-winning exhibitions, which have been described by Roberta Smith in The New York Times as "ravishing," the museum has a collection of more than 50,000 garments and accessories dating from the 18th century to the present. Like other fashion museums, such as the Musée de la Mode, the Mode Museum, and the Museo de la Moda, The Museum at FIT collects, conserves, documents, exhibits, and interprets fashion. The museum's mission is to advance knowledge of fashion through exhibitions, publications, and public programs. Visit http://www.fitnyc.edu/museum.
The Museum is part of the Fashion Institute of Technology (FIT), a college of art and design, business and technology, that educates more than 10,000 students annually. FIT is part of the State University of New York (SUNY) and offers more than 44 majors leading to the AAS, BFA, BS, MA, and MPS degrees. Visit http://www.fitnyc.edu.
The Couture Council is a membership group of fashion enthusiasts that helps support the exhibitions and programs of The Museum at FIT. The Couture Council Award for Artistry of Fashion is given to a selected designer at a benefit luncheon held in the Rainbow Room every September. For information on the Couture Council, call 212.217.4532 or e-mail Couturecouncil (at) fitnyc (dot) edu.
MUSEUM HOURS
Tuesday-Friday-noon-8:00 pm
Saturday -10:00 am-5:00 pm
Closed Sunday, Monday, and legal holidays
Admission is free and open to the public.
http://www.fitnyc.edu/museum
# # #