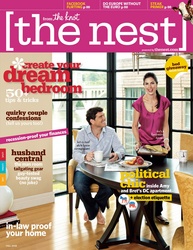 Do Europe Without the Euro!
NEW YORK (PRWEB) August 28, 2008
Finance fix—how to handle your cash In "Recession-Proof Your Life" (page 114), The Nest offers the seven vital steps for keeping your cash intact even in an economic downslide. And for an insider look into the lives of three couples facing off with money disagreements, check out "Couple Money Makeovers" (page 108). With the help of Carmen Wong Ulrich, anchor of CNBC's On the Money, these couples learn how to not only find a common ground, but also how changing their spending habits can equal big savings.
Upgrade your home—without the move Dying to upgrade your digs but don't want to deal with the current housing market? Not to worry! In "Upgrade Your Nest" (page 100), style experts at The Nest offer tips and tricks for kicking the most popular rooms in your home up a notch—without breaking the bank (think eco-friendly and oh-so-impressive kitchen flooring plus tips for turning your bathroom into a mini retreat). And to really help out your budget, The Nest is giving away a four-poster West Elm bed (http://www.thenest.com/bed) and an American Leather headboard (http://www.thenest.com/hboard) to help build your dream bedroom (page 46).
Recession-resistant travel—Europe minus the euro Dying to cross the pond for a romantic European trip for two but afraid you'll drown in exchange rates? Editors at The Nest share the scoop on the top European destinations where your dollar will soar thanks to the non-euro locales in "Do Europe Without the Euro!" (page 88). From a paradise for beach bums who crave a fun night scene (Dubrovnik, Croatia) to the perfect vacay spot for adventure seekers (Interlaken, Switzerland), there's a spot for every taste and style—all without the money-sucking euro.
Fall entertaining—on a budget If you thought you had to spend a fortune to host your own wine-tasting party, think again. In "Host a Wine-Tasting Party" (page 66), newlywed duo Anu and David from Swirl Events in NYC show you how to toast to an ultra-fun party without blowing your budget. In fact, all the wines that they suggest retail for under $22! And for those looking to host the ultimate fall dinner party, The Nest is here to help with five delish (yet budget friendly) pasta dishes that are sure to impress (page 74).
New on TheNest.com…
Ultimate Fall Guide—Don't be bummed that summer is over. Check out the ultimate guide for fall (http://www.thenest.com/fall2008), packed full of recipes (think maple-roasted butternut squash or pumpkin soup with crispy sage), fashion and décor inspiration, plus great weekend getaway ideas. Win it!—When it comes to Halloween, is your furbaby always "best dressed"? Prove it at TheNest.com first annual Pet Costume Contest at http://www.thenest.com/petcontest. Spending Smart 411—Blew too much cash this summer? TheNest.com money experts will get you back on track at thenest.com/spendsmart.com. To speak with an editor at The Nest, get high-resolution photos, or talk with real couples about these hot topics and more on married life, please contact Katie Nida-Rovano at (212) 219-8555 x1228 or email pr@thenest.com.
About The Nest
The Nest (http://www.thenest.com) is a hip guide to all things happily ever after. The popular offshoot of The Knot takes a stylish, practical approach to all things young marrieds need to know: merging finances, buying and decorating homes, cooking and entertaining, family relationships, and more through weekly blogs, expert Q&A, an online community, interactive tools, and a quarterly magazine. The Nest is a part of The Knot Inc. lifestage network (NASDAQ: KNOT).
MULTIMEDIA GALLERY http://www.businesswire.com/cgi-bin/mmg.cgi?eid=5765289