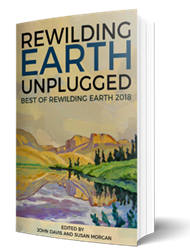 Rewilding Earth is an online publication that carries on where the late great journal Wild Earth left off.
ALBUQUERQUE, N.M. (PRWEB) July 15, 2019
Contact: Susan Morgan, TRI president and RE senior editor at support(at)rewilding.org.
The Rewilding Institute (TRI), founded twenty years ago by wilderness legend Dave Foreman, together with publisher Essex Editions, has released the first annual Rewilding Earth anthology. Rewilding Earth Unplugged: The Best of Rewilding Earth 2018 shares in elegant book form sixty of the best articles and pieces of art from the first full year of Rewilding Earth online.
Starting with the premise that most of the world should be wild, Rewilding Earth is an online publication that carries on where the late great journal Wild Earth left off. True to the essence of rewilding—giving the land back to wildlife and wildlife back to the land—Rewilding Earth runs news and views on protecting, reconnecting, and restoring big wild places, and reintroducing or assisting their missing or diminished species, particularly top carnivores like Pumas and Wolves.
Among the many powerful pieces of writing in this first Rewilding Earth are a defense of the Antiquities Act by Dave Foreman himself; a profile of the grassland-saving and species-restoring Southern Plains Land Trust by Nicole Rosmarino; an explanation of a more easterly miracle called the Arc of Appalachia by Nancy Stranahan; a successful call to save Eagle Mountain and extend Adirondack Park's Split Rock Wildway by Northeast Wilderness Trust's Director Jon Leibowitz; a draught of "Rewilding Distilled" poured by TRI Director John Davis; "The Good News", an inspiring poem by Gary Lawless; a plea for family planning by Suzanne York of Transition Earth; a call for a National Conservation Corridors Campaign to give people and animals wild pathways across the country by Michael Soulé; highlights of American Chestnut restoration work by Sara Fern Fitzsimmons; and a celebration of the daunting removal of an Alaskan dam by Brad Meiklejohn.
Artwork in the anthology was contributed by Steven Kellogg, Sheri Amsel, Susan Morgan, and others. The cover art depicting Trappers Lake, Colorado, by painter Evan Cantor, conveys a place of great import to conservation history and Nature protection because it was seen by the US Forest Service as too beautiful and wild to be developed, contributing to the emergence of the National Wilderness Preservation System.
Rewilding Earth has grown in all areas in the last year, from website visitors (up 76%) to our social media channels and podcast downloads. So far the first 26 episodes of our podcast have been downloaded 10,000 times. Facebook, Twitter, and our new Instagram channel have gained substantial audiences as we've ramped up out outreach with new and curated content. The driving factor behind all growth has been the great increase in original articles and new Rewilding Earth podcast content, giving us many more touch points with our audience than we've ever experienced in the past.
Rewilding Earth Unplugged is a collaborative labor of love for wild Nature. All writers and artists donated their work, and publication was graciously underwritten by Patagonia, Katoola, Biohabitats, Foundation Earth and generous TRI fans who donated to the GoFundMe campaign. Proceeds from sale of the book (available from http://www.rewilding.org for $25) directly support The Rewilding Institute's work for Puma recovery in the East, Wolf recovery in the West, continental wildways, and other initiatives to ensure that the world of tomorrow will be wilder and richer than the world of today.