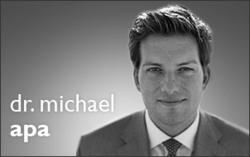 We examine a client's facial features to design personalized veneers that look very natural...
New York, NY (PRWEB) July 29, 2011
Dr. Michael Apa, a pioneer in cosmetic dentistry, receives an appearance in the men's and women's fashion magazine, Esquire, for male grooming advice. In this article addressing other male grooming tips such as eyebrow maintenance, hair dying, and proper male moisturizers, Dr. Apa discusses the positive aspects of veneer tooth-replacement.
Dr. Apa explains that a full set of veneers, which is usually the upper ten teeth, can be added in one week within two, two hour appointments. Apa often designs specialized veneers to look like a client's original natural teeth making the end result undetectable. He utilizes his unique approach called F.A.D. and applies this principle when designing a smile assuring that his patient's smiles look more youthful, extremely natural and his technique often has the effect of taking years off the appearance of his client's faces.
The American Academy of Cosmetic Dentistry defines veneers as thin pieces of porcelain used to recreate the natural look of teeth, while also providing strength and resilience comparable to natural tooth enamel. Porcelain veneers is often the material of choice for those looking to make slight position alterations, or to change tooth shape, size, and/or color.
At The Rosenthal Apa Group, science and artistry are combined to create the perfect smiles for each individual client. Dr. Apa stated, "We examine a client's facial features to design personalized veneers that look very natural. Our main goal is to provide our clients with a heightened sense of confidence and improved self-esteem."
Dr. Apa was also featured in a news article in Departures magazine concerning his airline travel from New York City to Dubai where he has an outpost of his cosmetic dentistry practice.
The Rosenthal Apa Group specializes in pain-free, non-invasive treatments that are completed with the newest technologies and techniques. Aside from veneers, other treatments include the cosmetic smile lift, teeth whitening, and facial aesthetic design. Rosenthal and Apa complete procedures in a 5-Star environment that sees celebrities, politicians, and businesspeople from all over the world.
For more information, visit http://www.rosenthalapagrp.com.
About The Rosenthal Apa Group:
The Rosenthal Apa Group is a private, aesthetic, dentistry practice in New York City with a team of two cosmetic and restorative dentists: Dr. Larry Rosenthal and Dr. Michael Apa. They are both partners in the practice, educators, and trend setters in the dental industry. The Rosenthal Apa Group provides natural, youthful smiles to patients around the globe.
About Dr. Michael Apa, DDS:
Dr. Michael Apa, DDS, is a partner of the Rosenthal Apa Group and a graduate of New York University College of Dentistry; he did his general practice residency at New York Methodist Hospital and completed a one-year clinical concentration program in cosmetic dentistry at New York University. Dr. Apa is pioneering a new approach to aesthetic dentistry called Facial Aesthetic Design (FAD). In addition to working in NYC, Dr. Apa has an office in Dubai where he sees patients every two months.
About Dr. Larry Rosenthal, DDS:
Dr. Larry Rosenthal, DDS, is the founder and clinical director of the Rosenthal Institute at New York University's College of Dentistry, opened in 2002. In 1981, he helped create the porcelain veneer and has placed over 40,000 veneer cases during his remarkable career. Dr. Rosenthal is the first dentist in the world presented with the Five Star Diamond Award by the American Academy of Hospitality Sciences, and he is an accredited member of the American Academy of Cosmetic Dentistry.
Contact:
Jackie Pastore
212-794-9600
Jackie(at)rosenthalapagrp(dot)com
###