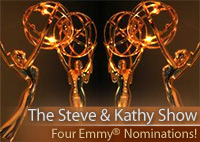 I'm truly honored to be recognized for this groundbreaking style of Christian programming
Kansas City, MO (PRWEB) August 26, 2009
Award-winning writer and executive producer Steve Gray captured four 2009 Emmy® award nominations from the Mid-America chapter of the National Association of Television Arts and Sciences.
Gray received Emmy® nominations for The Steve & Kathy Show, a faith-based variety show, in the categories of:

Arts and Entertainment - Program Feature: Marriage Enhancement
Religion: Real Preachers of Genius - Mr. Door to Door Evangelist Guy
Religion: Allsucks Insurance
Specialty Program: Episode 309: End Times
Now in its third season, The Steve & Kathy Show has distinguished itself by infusing humor, music and parodies into skits and satires that appeal to everyone. Gray uses a dry and disarming sense of humor to tell it like it is.
"I'm truly honored to be recognized for this groundbreaking style of Christian programming," said Gray, creator and executive producer. "The Steve & Kathy Show is more than a television program. It's a new kind of show that isn't afraid to poke fun at itself, and audiences relate to and watch."
This is the second year Gray has been nominated for these prestigious awards that honor excellence and innovation in the telecommunications arts and sciences. Last year, Gray won an Emmy® for Real Preachers of Genius - Mega Church Pastor.
Earlier this year, The Steve & Kathy Show won two Gold Telly Awards.
The Steve & Kathy Show airs across America on 12 stations in 16 major cities, including Direct TV and Dish Network
The Emmy® winners will be announced Oct. 3 in St. Louis.
Gray pastors World Revival Church in Kansas City and is the author of a No. 1 Amazon best seller, "My Absurd Religion." He has gained national recognition, having been interviewed for publications like TIME and Newsweek, multiple TV and radio shows, and numerous newspapers.
Gray has been married to his co-host, Kathy, for 33 years. He's been in the ministry for more than 30 years, getting his start by traveling the country performing, singing and ministering to people. Before coming to Kansas City, Steve pastored a church in Smithton, Mo., which attracted a quarter million visitors from 70 nations to a town of 532 people in what was known as the "Smithton Outpouring."
For more information about Steve Gray and The Steve & Kathy Show, go to steveandkathygray.com. For more information about the awards, go to emmymid-america.org.
###