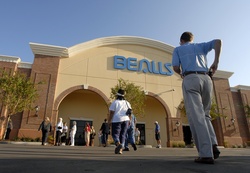 Buffalo Ridge is a great location choice for Bealls
THE VILLAGES, Fla. (PRWEB) September 29, 2008
"Buffalo Ridge is a great location choice for Bealls," said John M. Crossman, CCIM, president of Crossman & Company and retail spokesperson for The Villages. "Linked directly to the golf cart paths, this new location will be convenient and more accessible for the over 70,000 residents of The Villages."
This is Bealls' second location in the market but first location inside The Villages, based on the retailer's success, they chose a location that can truly serve the community and offer golf cart access. This location also serves as the retailer's newest prototype. The interior is brighter, more colorful and the aisles are designed to be wider than other Bealls stores. The only similarly designed store is in Bradenton, site of the company's headquarters.
"It's going to be a great store," Kay Wallace, store manager promised. "We are going to make it a great store — No. 1 in the chain. Count on it."
About The Villages/Crossman & Company
Crossman & Company handles the retail leasing for The Villages, FL including the town centers of "Lake Sumter Landing", "Spanish Springs", plus the "Buffalo Ridge" and "Antrim Dells" shopping centers. The Villages is the largest single-site mixed-use real estate development in the U.S. and currently home to major retail and restaurant tenants including: Publix, Fresh Market, Wal-Mart, McDonald's, Barnes & Noble, Belk, Bealls, Bonefish Grill, Panera Bread, Starbucks, Sweet Bay, TGI Friday's, Chico's, Ruby Tuesday's, Target, Outback, Carrabas, Bass, Izod, JoS. A. Bank and Red Lobster.
For more information please visit http://www.thevillagescommercialproperty.com, or call 352-753-6654.