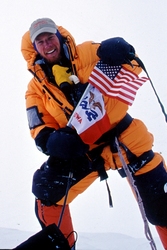 I look at my two-year-old son and think about what kind of a world he'll inherit. I've shifted my focus from the past, which I can't control, to the future, which I can.
Des Moines, IA (Vocus) April 1, 2010
Charlie Wittmack, the first Iowan to climb Mount Everest and who made international news in attempting to swim the English Channel in 2008, made it official today. Wittmack announced that he is undertaking environmental, educational and global health challenges as a legacy to his simultaneous, first-of-its-kind intercontinental triathlon set to launch in July.
Wittmack is a world class adventurer, speaker, educator, attorney and family man. This time, emboldened by a vision and sense of responsibility globally, Wittmack will embark on The World Tri, an 11-month expedition during which he will launch a maternal health program in gratitude to the Sherpas and their families in Nepal, develop K-12 curriculum for students across the U.S. and beyond, and then swim, bike and run nearly 12,000 miles through 12 countries, an unprecedented feat even for world-caliber triathlon participants.
The World Tri team begins the expedition Sunday, July 11, 2010 and will end Saturday, June 11, 2011. Wittmack's team includes his wife, Cate and their two-year-old son, James. Also joining him is award-winning journalist Brian Triplett and filmmaker Andy Stoll. Dozens of physicians and medical students will volunteer their time and expertise to assist with the global health efforts.
Wittmack's goal for The World Tri is to offer motivation to future generations, and inspires them to make a positive impact—no matter how big or small.
"I look at my two-year-old son and think about what kind of a world he'll inherit," says Wittmack. "I've shifted my focus from the past, which I can't control, to the future, which I can."
The World Tri has three pillars – global health, education and the expedition itself.
Global Health
In Nepal, 830 women die for every 100,000 live births, ranking 16th worst in the world. In comparison, the maternal mortality rate is eight women for every 100,000 births in the United States. The World Tri is partnering with the World Health Organization (WHO) and Des Moines University (DMU), a medical school, to develop and implement global health programs to reduce maternal mortality in Nepal.
When The World Tri reaches Kathmandu, Nepal, DMU will provide onsite physicians and medical students to provide training on safe childbearing. With WHO, the White Ribbon Alliance and medical professionals, the team will work with local birth attendants to teach best practices and provide equipment for complicated deliveries with DMU's state-of-the-art simulators. There will also be a push for public awareness and education.
"Nepal has one of the highest infant mortality rates in Southeast Asia. By getting involved in The World Tri project, Des Moines University's Global Health program will be able to bring awareness to the problem and provide much-needed public education," says Dr. Yogesh Shah, Associate Dean, Global Affairs for Des Moines University. "Through training of skilled caregivers and community education, we are optimistic that we can make a big impact on the health of woman while providing our students and the community with educational opportunities."
Adventure Institute
The World Tri will create interactive curriculum from which students can track the expedition's progress and engage in science and environmental lessons. Each lesson plan is tailored to the regions explored during The World Tri and confronts participants with a blend of contemporary and traditional earth science issues, including alternative energy, water quality, water scarcity, geology, meteorology, climatology and oceanography.
"I often struggled with connecting the curriculum at school with my everyday life," says Wittmack. "With The World Tri curriculum, students get to see the results and impact of their decisions in a web-based format that they can relate to."
The Expedition
When Wittmack was 15, he dreamed of an expedition like this. Now, 17 years later, his dream has expanded to an inspirational vision of reducing Nepal's maternal mortality rate and also to create state-of-the-art lesson plans for students. However, the physical aspect of The World Tri still exists and is unparalleled.
Wittmack's expedition includes:

Swimming 220 miles (London, England, to Calais, France; the English Channel itself is only 20 miles)
Biking 11,428 miles (Calais, France, to Kathmandu, Nepal)
Running/Climbing 450 miles (Kathmandu, Nepal, to the summit of Mount Everest)
This isn't Wittmack's first time climbing Mount Everest. In 2003, he reached its summit after making two back-to back attempts without food or water during some of the worst weather in the recorded history of the mountain. He is the first Iowan to scale Mount Everest.
The World Tri has received support from such partners as Mercy Medical Center, Des Moines University, the World Health Organization, Pfizer Corporation and others, such as the private donors who are financing the trek itself along with Charlie Wittmack and his family.
"Mercy Medical Center has chosen to partner with Charlie Wittmack because he's demonstrated an exceptional personal and professional commitment to physical and mental achievement, in addition to his motivational skills with others to reach their business and personal goals, including healthier lifestyles," explains Joe LeValley, Senior Vice President of Planning and Advocacy at Mercy Medical Center. "Charlie's quest should be an inspiration to all of us as we strive to create healthier communities."
The World Tri is the vision of Charlie Wittmack. It's a three-fold initiative to address maternal mortality rates in Nepal, offer interactive curriculum for students that provides real-life solutions, and complete an unprecedented physical challenge. The 11-month expedition will take Charlie and his team nearly 12,000 miles through 12 countries. Visit http://www.theworldtri.com for more information.
Media Contact:
Lara Plathe
(515) 453-2042 (work)
(515) 231-7634 (cell)
# # #