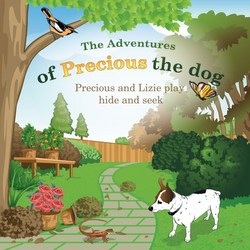 Tweet This: The Adventures of Precious The Dog by @imajackrussell is a #PreciousBook get your copy today. http://ow.ly/1Qvue Pls RT
Riverside, CA (PRWEB) June 2, 2010
The first book in the series is a tale of a Jack Russell Terrier and her backyard friends after her humans create a backyard habitat.
Precious shows how she has fun with her anipals, Mrs. Butterfly, Birdie, and, of course, the clever Lizie the lizard.
Precious' over 1500 Twitter followers who know her as @imajackrussell get to follow the daily adventures, photos, and videos of her trips to the park, pet stores, and her favorite of all adventures, car rides. Imajackrussell also tweeted about the self- publishing process including: having the book illustrated, finding a printer, applying for copyright, and finally setting up her online store on Etsy.com and Amazon.com.
It's clear that @Imajackrussell communicates with her fans and friends regularly. According to her twitter and facebook page, the first book was sold and shipped to a twitter follower in New Zealand. Since then, a remarkable thing seems to be happening. Her anipals are taking pictures of themselves with the book and sharing them on her social networking sites.
The book's marketing plan seems pretty simple. Involve the anipal community and ship the product.
There is even an official Tweet: "The Adventures of Precious The Dog by @imajackrussell is a #PreciousBook get your copy today. http://ow.ly/1Qvue Pls RT"
The children's book hasn't gone completely to the dogs (and cats); kids are drawn to the book as well. A local kindergardener has even done her school book report on "Precious and Lize Play Hide and Seek".
The little book is fully illustrated, and it includes a touching memoriam dedication to her canine siblings and her grand 'hupop'.
Sure to be a hit as a bedtime story for children and anipals alike. "The Adventures of Precious The Dog: Precious and Lizie Play Hide and Seek" is for lack of a better word, precious.
About Imajackrussell©
Precious is a very adventurous Jack Russell terrier who loeves to play, and ride in the car. You can follow more of her daily adventures on Twitter @Imajackrussell and Facebook at Facebook.com/Imajackrussell To purchase your copy of the book click on the link below or visit The Etsy Store
Or, purchase via Amazon.com
The Adventures of Precious The Dog: A Cheryl Lawson Project.
###