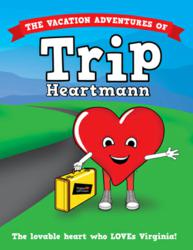 This new book is a cute story that's meant to entertain kids and also impart the love of travel and adventure, which is what vacations are all about
Richmond, Va. (PRWEB) August 31, 2012
Virginia is for Lovers is about love – pure and simple. Nobody knows that better than families who come to Virginia for a great vacation with loved ones. Moms and dads who are looking to keep the kids entertained while on the road now have a new, free resource at Virginia's Welcome Centers. The Virginia Tourism Corporation has created a coloring book called "The Vacation Adventures of Trip Heartmann – the Loveable Heart who LOVEs Virginia".
The book follows Trip Heartmann on adventures in every region of the state – from surfing to dancing, to camping, sight-seeing and canoeing. Kids can read along about Trip's adventures, get creative with the story and learn more about how exciting travel can be.
The Vacation Adventures of Trip Heartmann will be available for free at Virginia Welcome Centers starting August 31 or by request when ordering a free, Virginia is for Lovers Travel Guide at http://www.Virginia.org.
"This new book is a cute story that's meant to entertain kids and also impart the love of travel and adventure, which is what vacations are all about," said Rita McClenny, interim president and CEO of the Virginia Tourism Corporation. "Our message is that love is at the heart of every Virginia vacation and now the youngest of visitors can put themselves into the story and share with their family while traveling through Virginia."
Virginia is a popular destination for families. The state's location, within a day's drive or less of 60 percent of the US population adds to the leisurely pace of a Virginia vacation, meaning families can spend less time traveling and more time enjoying vacation together.
Virginia brings families together on vacation, especially at cozy cabins, beachfront vacation homes, all-inclusive resorts, and mountain lodges that are ideal 'togethering' spots where the entire family can relax and reconnect each other on vacation.
Tourism is an instant revenue generator for Virginia. In 2010 tourism generated $19 billion in revenue, supported over 204,000 jobs and provided $1.3 billion in state and local tax revenue for Virginia's communities.
Visit http://www.Virginia.org for more information or call 1-800-VISITVA for a free Virginia is for Lovers travel guide. Connect with Virginia on Facebook at http://www.Facebook.com/VirginiaisforLovers or on Twitter at http://www.Twitter.com/VisitVirginia. Watch the Virginia is for Lovers TV commercial at http://www.youtube.com/VisitVirginia. Love is at the heart of every Virginia vacation.
NOTE TO MEDIA: Trip Heartmann will be handing out free coloring books and crayons this weekend for Labor Day travelers at the Fredericksburg and New Kent Welcome Centers at the following times:
Friday, August 31 from 2:00 – 4:00 p.m. at the Fredericksburg Welcome Center on Interstate I-95 South at Mile Marker 131.
Saturday, September 1 from 11:00 a.m. – 1:00 p.m. at the New Kent Welcome Center on Interstate I-64 East at mile marker 213.