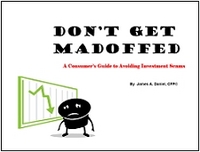 Take normally rational, intelligent people and tempt them with the possbility of multiplying their money quickly, and all logical thinking goes out the window.
Alpharetta, GA (PRWEB) December 7, 2009
Is that "can't fail" investment you are being pitched legitimate? What about those steady returns you have gotten even during market turmoil, can that be for real? Those very questions prompted Certified Financial Planner™ James A. Daniel to pen a free consumer guide to help educate the public on Investment Scams.
"Don't Get Madoffed - A Consumer's Guide to Avoiding Investment Scams" is an easy to read e-book that is designed to cut through the financial industry jargon and lay out the basic rule that so many investors forget in their quest for high returns with low risk, "If it sounds to good to be true, it usually is".
"The Bernie Madoff story made it to the mainstream press due to the magnitude of the scam " stated James A. Daniel, CFP® "Unfortunately, the bigger problem is that Investment Scams like this are uncovered almost each week, but because they are smaller in size you never hear about them."
The Consumer Guide is formatted to walk readers through the basic types of Investment Scams, give examples of recently uncovered Scams and finally give readers a checklist of warning signs to look out for when considering an investment opportunity.
"Investment Scams have existed for over 100 years and unfortunately will probably be around 100 years from now" stated James A. Daniel, CFP® "My hope is that this guide will serve as a resource for investors to help them screen potential investments before risking their life savings".
About The Advisory Firm, LLC:
The Advisory Firm, LLC is a fee-only financial planning and investment management practice located in Alpharetta, Georgia. The Advisory Firm, LLC also operates the web's first personal finance challenge site: myVizer.com and the personal finance blog: MarriedtoaMiser.com.
###