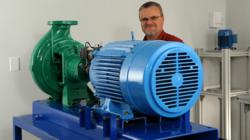 We love seeing their response when they apply what they have learned and achieve a precise alignment, sometimes in just a single move.
(PRWEB) December 08, 2011
Announcing http://www.TheAlignmentBlog.com, featuring the real world shaft alignment experiences of VibrAlign's expert trainers and engineers.
VibrAlign is committed to helping businesses use their resources more efficiently and effectively by specializing in everything for shaft alignment – alignment equipment, alignment application knowledge, alignment repair and calibration services, and alignment training. For this reason the company's training team, four experts with more than 60 years of alignment experience, have launched a new blog chronicling in detail alignment issues encountered in the field, and how these issues were solved.
VibrAlign trainers strive to constantly update their expert knowledge and to incorporate real world situations into training sessions. VibrAlign training goes beyond the typical teaching format, walking individuals through a hands-on process and allowing them to put the procedures into practice immediately after they are introduced for a better understanding and a more energized experience.
"When we train on site, the first day is spent in the classroom. On day two we go out into the plant and apply what was learned, allowing the customer to pick the equipment to be aligned. I can tell you, they usually pick their 'problem child' that they've had ongoing trouble sometimes for years. We love seeing their response when they apply what they learned and achieve a precise alignment, sometimes in just a single move", says Stan Riddle, VibrAlign Trainer.
VibrAlign invented its own method of correcting misalignment – Verti-Zontal® – which allows for the correct vertical and horizontal adjustments to be made together, saving valuable time and ensuring accuracy the first time around. A portion of each training class is spent on teaching this more efficient and effective way to complete precision alignments. The result is that VibrAlign customers have a clear path to realizing ROI from their investment in alignment.
About VibrAlign
VibrAlign started in 1983 as a vibration and alignment service organization and later became a distributor of equipment which, appropriately, equipped our team to better serve. VibrAlign is America's exclusive distributor of Fixturlaser® – the manufacturer of the only touch screen tool available with 3D animation and sensor safeguard against sunlight. For thirty years now, VibrAlign has been growing across the country. Today we proudly operate out of local offices in every major region.
###