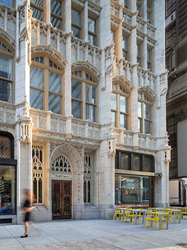 ...it is centrally located in the city and has everything a business traveler needs to work and, hopefully, to explore and experience
Washington DC (PRWEB) October 13, 2016
BridgeStreet Global Hospitality – the built-for-business leader in serviced apartments and homes for companies seeking extended stay experiences anywhere in the world –announces a new management agreement with Alterra Property Group at The Arch in Philadelphia. This partnership demonstrates the advantages for entrepreneurial owners and developers who wish to optimize their asset returns by maximizing operating profitability.
The Arch boasts 111 units in the heart of Logan Square, offering a central location with intelligent floor plans, lifestyle-centered amenities, and incredible Philadelphia views. The building will become part of the Living by BridgeStreet brand. The Arch was added to the National Register of Historic Places in 1984.
"The Arch is a great compliment to BridgeStreet Family of Brands due to its unique and highly visible location for corporate and leisure travelers," said President and CEO Sean Worker. "Not only is it a beautiful building like all our Living properties, it is centrally located in the city and has everything a business traveler needs to work and, hopefully, to explore and experience."
This property offers an ideal mix of apartment types with studios, 1 bedroom and 2 bedroom apartments, all renovated with high-end finishes and excellent amenities, including a washer and dryer in every apartment. With some of the units being residential apartments that have longer length of stay.
"Philadelphia is an underserved market in the serviced apartment space and represented a great opportunity for BridgeStreet to open a flagship asset," said Derrick LaRosa, Director of Real Estate for BridgeStreet. "The Arch combines the best of traditional real estate and serviced apartments with its history, location, and Class A finishes, offering a unique experience for travelers to the city of brotherly love."
For more information on BridgeStreet Global Hospitality, visit bridgestreet.com or call 1(800) 278 7338 / +44 (0) 20 7792 2222.
###
About BridgeStreet Global Hospitality
BridgeStreet Global Hospitality – comprised of six unique brands – is the leading global hospitality solution. BridgeStreet offers serviced apartment experiences for the "new tribe of business traveler", who is seeking a modern, immersive living experience, with the services and amenities of top-quality hotels. BridgeStreet's family of brands offer the convenience of apartment living with a variety of service packages to offer each guest options based on location, price point and individual needs. Widely recognized for uncompromising standards of quality, comfort and service, BridgeStreet Global Hospitality is a renowned award winner in both the Americas and EMEA (Europe, the Middle East and Africa). For more information on BridgeStreet Global Hospitality, please visit bridgestreet.com or call 800 278 7338.