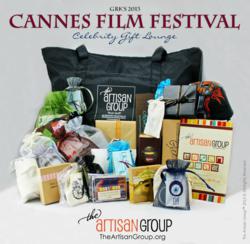 Our members have put together a stunning collection of handcrafted goods that are truly worthy of this glamorous international event.
Sunnyvale, CA (PRWEB) May 07, 2013
The Artisan Group™ (http://www.theartisangroup.org), a by-invitation-only collective of over 700 talented business artisans specializing in handcrafted products, will have its members' products on display and in celebrity gift bags at GBK's 2013 Luxury Celebrity Gift Lounge honoring the Nominees and Presenters of The 66th Annual Cannes Film Festival. The Gift Lounge takes place May 17-20, 2013 at an exclusive location in Cannes, France.
Handcrafted jewelry, spa and bath products, fine art photography and more from select members of The Artisan Group have made their way to Cannes, where they await their moment in the spotlight. The Artisan Group will also be gifting GBK's 2013 charity beneficiary, to be announced in the coming days. The Artisan Group's gift bag is valued at $1,180.
Watch a The Artisan Group video.
"The Artisan Group is thrilled to be a Platinum Sponsor at GBK's Cannes Film Festival Gift Lounge, our first international celebrity gifting event," said The Artisan Group founder Valerie Guerrero. "Our members have put together a stunning collection of handcrafted goods that are truly worthy of this glamorous international event. We can't wait to show it all off."
Participating members gifting the celebrities at GBK's Luxury Gift Lounge honoring the 2013 Cannes Film Festival include: Brandi Bowen, Ever So Lovely® Inc.; Jennifer Brown, Pieceful Design; Karin Collins, The Lost Arts; Sandy and Stevie D'Andrea, Jewels For Hope; Jody Edwards, Jody Edwards Fine Art; Lori Marshall Ford, Belukro; Adriana Fung, ChloeAlyson; Marni Fernandes, Papaya Blue Designs; Jade Gedeon, We Dream in Colour; Alexis Gopal, Alexis Gopal Jewelry; Ashley Griffith, The Gnarly Whale; Marguerite Hummel, Xquisitely Lady M; Nikki Halgren, Gleeful Peacock; Laura King Loralyn Designs; Sienna Kittelman, Zoe and Piper; Wallace Kowrach, The Exceptional Artisan, L.L.C.; Alexis Loschiavo, ShadyLady Uniquely Chic Jewelry; Rachel Leathers, Hearts of Stone Jewelry; Christine Lorenzo; SariBlue®; Courtenay Madsen, Courtenay J Designs; Anita Miller, Nature's Images By Design; Aileen Parks, Girl by Aileen; Elizabeth Ringewald, Maine Coon Crafts; Amanda Scammell, Skygrown Jewelry Co.; Michelee Scott, Asqew-Creative; Lisa Smith, LKS Originals; Katherine Song, Katherine Song Originals; Jessica Talley, Bubba Rose Biscuit Co.; Kate Walsh, Peripeti, Home; Karin Wiseman, and Blossom Shop Jewelry.
The Artisan Group's Official 2013 Cannes Film Festival Event Guide detailing all participating members is available online.
To learn more about The Artisan Group and its upcoming celebrity gifting events visit the website (theartisangroup.org), follow the Artisan Group on Facebook (facebook.com/theartisangroup) and Twitter (@theartisangroup) and subscribe to The Artisan Group blog (theartisangrouporg.blogspot.com). Select products are available to view on The Artisan Group's Pinterest boards (pinterest.com/theartisangroup). Direct press inquiries to Valerie Guerrero at (408) 203-6727.
About The Artisan Group
The Artisan Group (http://www.theartisangroup.org) is an elite art promotions group representing talented small business artisans at the best celebrity gift lounges. The organization provides a collective sampling of handcrafted products to celebrities and members of the press at top luxury gift lounges such as those leading up to The Academy Awards, The Golden Globes, The MTV Movie Awards and The Primetime Emmys. Membership in The Artisan Group is juried and by invitation-only. The Artisan Group also offers its members guidance in the areas of sales, marketing, social media and public relations.
*The Artisan Group is in no way associated with The Cannes Film Festival.