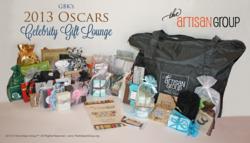 GBK's Oscars Gift Lounge is a high point each year for our members, just as our unique gift bags are looked forward to by the celebrities.
Sunnyvale, California (PRWEB) February 12, 2013
The Artisan Group™ (http://www.theartisangroup.org), a by invitation only collective of over 700 talented business artisans, specializing in handcrafted products, will be a Platinum Sponsor in GBK's upcoming Luxury Celebrity Gift Lounge honoring the nominees and presenters of the 85th Academy Awards on February 22-23, 2013 at an exclusive location in Beverly Hills, California.
Fine art photography, jewelry, spa and bath products and more from select members of The Artisan Group will be showcased on display and included in celebrity and press swag bags. The Artisan Group will also be gifting GBK's 2013 charity beneficiary, to be announced in the coming days. The Artisan Group's gift bag is valued at almost $1,600.00.
Watch a The Artisan Group video.
"GBK's Oscars Gift Lounge is a high point each year for our members, just as our unique gift bags are looked forward to by the celebrities," said The Artisan Group Founder Valerie Guerrero. "Last year Jon Bernthal, Teri Polo, Kevin Nealon, Penny Marshall, Sugar Ray Leonard, Laurie Holden and J.K. Simmons, just to name a few, stopped by to chat and pick up one of our branded swag bags. I must say, our members have put together a really stunning collection this year and we're looking forward to showing it all off."
Participating members gifting the celebrities at GBK's Luxury Gift Lounge for the 2013 Academy Awards include Judit Blumenfrucht, JuditB Jewelry; Brandi Bowen, Ever So Lovely®; Cindy Brunetti, SoapyBliss Bath & Body Bakery; Kirah Campbell, A Pretty Shoppe; Brandi Collins, Villain Accessories; Maureen Connor, Meant 2b Cherished; Kristin Fraser Cotte, The Grapeseed Company; Jessica Grauert Croft, The Prismatic Peacock; Sandy & Stevie D'Andrea, Jewels For Hope; Vickie Barber-Ellis, Sunshine Jewels; Jessica Falcon, The Falcon Soaperie; Marcia Fleming, Essentials Etc.; Beatriz Fortes, Contemporary Jewelry by Beatriz Fortes; Janet Galla, Trinkets N Whatnots; Colleen Johnson, 2 Sisters Handcrafted; Cindy Kassebaum, Rock & Hardware Jewelry; Heidi Kinnally, HeidiLee Design; Courtenay Madsen, Courtenay J Designs; Michelle McLaughlin, Motherbored; Cheryl Zambataro & Mischa Mileman, Sapone Di Bronte; Anita Miller, Nature's Images By Design; Sandra Miller, Beaded by Sandra; Rachel Mulherin, Rachel Mulherin; Cindy O'Neill, YesterYear Soap Company; Jennifer Racette, Alison Julien Collection; Renee Rokero, Kolohe Gurl Jewelry; Holly Rota, Primadonna Pieces; Christi Schimpke, Minabea Jewelry; Lisa Smith, LKS Originals; Kimberly Spector, Nair & Bjorn; Liz Stechschulte, Ethereal Energy; Margarita Sunderland, Rita Sunderland; Julie Jakum Ter Borg, Julie Ellyn Designs; Maleah Torney, Maleah Torney Photography; Cami Tout, Camilee Designs; and Jeannie Vianney, Jeannie Vianney.
The Artisan Group's Official 2013 Oscars Event Guide detailing all participating members is available online.
To learn more about The Artisan Group and its upcoming celebrity gifting events visit the website, follow the Artisan Group on Facebook and Twitter and subscribe to The Artisan Group blog. Select products are available to view on The Artisan Group's Pinterest boards. Direct press inquiries to press(at)theartisangroup(dot)org.
About The Artisan Group
The Artisan Group (http://www.theartisangroup.org) is an elite art promotions group representing talented small business artisans at the best celebrity gift lounges. The organization provides a collective sampling of handcrafted products to celebrities and members of the press at top luxury gift lounges such as those leading up to The Academy Awards, The Golden Globes, The MTV Movie Awards and The Primetime Emmys. Membership in The Artisan Group is juried and by invitation-only. The Artisan Group also offers its members guidance in the areas of sales, marketing, social media and public relations.
The Artisan Group is in no way associated with MTV, The Academy of Motion Picture Arts and Sciences, The Hollywood Foreign Press Association or The Academy of Television Arts and Sciences.