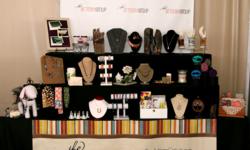 "Whenever I open The Artisan Group's gift bags, it's like Christmas!"
-- Tinsel Korey
Sunnyvale, California (PRWEB) June 19, 2012
Celebrities and press stopping by The Artisan Group (http://www.theartisangroup.org) display at GBK's Luxury Gifting Suite for the MTV Movie Awards on June 1-2 at the L'Ermitage Hotel in Beverly Hills got a glimpse of the best of the handcrafted movement and took home swag bags filled with goods from independent artisans working in the United States and internationally.
"The Artisan Group is about representing the handcrafted movement to Hollywood," said founder Valerie Guerrero. "Celebrities have plenty of opportunity to receive manufactured luxury goods and that's great but we want to introduce them to the best of the best being created by small, artisan-owned businesses."
The Artisan Group displayed the products of 28 companies at the gift lounge, and handed out exclusive swag bags to celebrities and press valued at nearly $1,500.00. The bags included jewelry, spa and bath products, hand-poured candles, hair accessories, designer stationary, sewn wristlets, pet toys and accessories, journals, hand-cut paper flowers and fine art photography.
To ensure products are up to the standards of the luxury-oriented GBK gift lounges, The Artisan Group reviews and approves all work to be included in the swag bags. This is in addition to the fact that membership is juried and by invitation only. "Our membership is exclusive," commented Guerrero, "but you will not find a friendlier, more knowledgeable and supportive group of individuals—they are aware of how difficult it is to make an impression in a heavily saturated market and at the same time know that succeeding can change lives for the better and want to see that happen for each other. Actually, it's extraordinary."
Celebrities attending the event included nominee Rob Riggle, Lauren Velez, Rico Rodriguez, Taylor Armstrong, Janina Gavankar, Kirby Bliss Blanton, Autumn Reeser and Jennifer Love Hewitt, who remarked during her visit with The Artisan Group, "You guys always have such great products!"
"The Artisan Group loves participating in GBK's MTV Movie Awards Gift Lounge," said Guerrero. "The vibe is hip and cool and the attendees are appreciative of the treasures they receive. Our artisans get a lot of thank you notes from the celebrities via Twitter and Facebook, and it's not uncommon for purchases to happen post event and months down the road."
Sometimes the feedback is immediate. A notable moment occurred this year when James Manos, Jr., creator of the Showtime hit "Dexter," visited The Artisan Group's exhibit. He was so taken by designer Amy Fine's necklace display that he wanted to know if he could have it for his wife. "It turned out his wife happened to be Lauren Velez, who plays Captain Maria LaGuerta on the show!" laughed Guerrero. "Lauren fell in love with Amy's necklace too and we phoned Amy to see if it was okay for her to have it. Amy agreed and Lauren told me she would actually be wearing the piece in an upcoming episode of the show."
Celebrity Judith Shekoni of "The Twilight Saga: Breaking Dawn, Part II" also loved the gifts she received and emailed a note of thanks saying, "Just wanted to extend a thanks to all the people you represent and to let you know I will do my best to wear your pieces at red carpets and events to raise the profile of your gifted artists."
The Artisan Group also gifted GBK's 2012 charity beneficiary, (RED)™—a non-profit organization created by Bono and Bobby Shriver to unite iconic companies and consumer power in the fight against AIDS in Africa. "Our artisans are generous of spirit and are happy to give to this important cause," noted Guerrero.
Participating members of The GBK 2012 MTV Movie Awards Luxury Gift Lounge event gifting the celebrities include Valerie Guerrero of The BeezKneez Designs (The Artisan Group's Founder); Melissa Ahonen of Baby Button Tops; Judy Aussenhofer of AussenWolf Designs; Linda Bahr of Engelfelt Designs; Melissa Bartholomew of CandleWorks; Michelle Bousley of O.C. Styles; Autumn Bradley of Autumn Bradley Jewelry Design; Jodi Broglio of Jolio Design; Penny Cheng of Saniki Creations; Collette Collins of Firefly Myst Artisan Jewelry; Sandy and Stevie D'Andrea of Jewels For Hope; Dana D'Angelo of Teru Amaro; Amy Fine of Amy Fine Design; Sandra Geiss of SilverSchells Jewelry Design; Alexis Gopal of Alexis Gopal Jewelry; Tracey Gurley of Tracey Gurley Bath & Body; Julicia Hernandez of Julicia's Creations; Deborah Hosaki of Hoshii Designs; Rachel Hughes of Saressa Designs; Jenny Jafek-Jones of The Crimson Poppy; Fen Li of Bead Flora and Jewels; Christine Lorenzo of SariBlue; Erica Low of iCandyDesigns; Sherry Luke of Sherry's Jewelry; Michelle McLaughlin of MOTHERBORED; Erin Michael of Erin Michael, Silversmith/Visual Artist; Carolyn Moran of Care More Creations; Rebecca Nash of Rebecca Nash Photography; Michelle O'Hollaren of Sophisticated Pup; Peggy Paliotta of Starlet Glam Bath & Body; Diane Perry of Catcophony Wearable Art; Tenisha Proctor of Designs by Tenisha; Tricia Samundsen of Scentability Handcrafted Body Products; Citlalli Sanchez of Sew Beastly; Kharisma Sommers of Popnicute Artisan Jewelry; Sarah Struett of Four Black Paws; Erica Taylor of Paper and Place; Jessica Taylor of Shaka Soap; Carla Thomas of Palm Beach Parties; and Katie Waver and Megan Sharkey of Gemelli Inspired.
Photos of the display pieces and contact information for all participants are available in The Artisan Group's official "MTV Movie Awards Event Guide."
Visit The Artisan Group's website and see photos of celebrities who visited The Artisan Group exhibit.
To learn more about The Artisan Group and its upcoming celebrity events, visit the website, follow the Group on Facebook and Twitter and subscribe to its blog. Selected products are available to view on The Artisan Group's Pinterest boards. Direct press inquiries to press(at)theartisangroup(dot)org.
About The Artisan Group
The Artisan Group (http://www.theartisangroup.org) is an art promotions group representing talented artisans at Hollywood's best celebrity gift lounges. It provides a sampling of handcrafted products to celebrities and members of the press at major award show gift lounges such as those leading up to The Academy Awards, The Golden Globes, The MTV Movie Awards and The Primetime Emmys. Membership in the Artisan Group is juried and by invitation only. Members showcase a broad range of specialties including jewelry; spa and bath products; designer stationary and paper goods; crocheted apparel; children's clothing; accessories and toys; ceramics; purses and totes; hand-poured candles; book binding and journals; illustrations and paintings; hand-dyed scarves; fine art photography; hair accessories; pet apparel and toys; woodworking products and more. The Artisan Group also offers its members guidance in the areas of sales, marketing, social media and public relations.
The Artisan Group is in no way associated with MTV, The Academy of Motion Picture Arts and Sciences, The Hollywood Foreign Press Association or The Academy of Television Arts and Sciences.