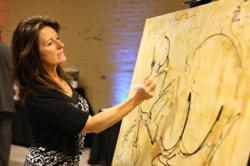 Old Friends is an important haven for at-risk thoroughbreds. It's my honor to contribute to the well-being of this facility.
Scottsdale, Arizona (PRWEB) April 03, 2013
Contemporary artist Donna B will paint her modern equine art live at Ferdinand's Ball on May 2 at the Muhammad Ali Center in downtown Louisville, Kentucky. The resulting painting will be auctioned that evening to benefit the Old Friends Equine Retirement Facility, located in Georgetown, Kentucky.
View The Art of Donna B slideshow video/media kit.
This is Donna B's third year of involvement with Ferdinand's Ball, a red carpet, celebrity-studded Kentucky Derby bash that was voted by "Leo Weekly" readers as one of Louisville's three best non-profit events.
"I'm pleased to participate in Ferdinand's Ball again this year," said Donna. "Old Friends is an important haven for at-risk thoroughbreds and it is my honor to contribute to the success and well-being of this facility."
Ferdinand's Ball was founded by sisters and community volunteers Kim Boyle and Aimee Boyle Wulfeck in honor of Ferdinand, the 1986 Kentucky Derby Winner and 1987 Horse of the Year. After making millions in the races, Ferdinand was sent to stud in Japan and, following his stud career, ended up in a slaughterhouse, which spurred an international outcry.
"We are so excited to have Donna returning to create one of her beautiful pieces of equine art at Ferdinand's Ball 2013. Her passion and love for horses is obvious through her gorgeous work and being able to watch her create in person is truly a special experience," remarked Kim Boyle. "The best part is that one lucky bidder will get to take her work home at the end of the evening, with the monies directly benefiting Old Friends Equine Retirement Facility."
Donna B is a New York native who now divides her time between Scottsdale, Arizona and McCall, Idaho; maintaining seasonal painting studios in both locations. Bernstein's work is represented by numerous galleries, including The Adamson Gallery, Sacramento, CA; Gallery Noir, Dallas, TX; and Alexander Salazar Fine Art, San Diego, CA.
For many years Donna B, who is fast becoming popular as a celebrity event artist, has dedicated a portion of her work to charity and supports causes such as The Center for Family Safety and Healing, The Permanently Disabled Jockeys Fund, and The Arizona Humane Society, among others. Most recently she donated a "Modern Equine Art Experience Package" at 2013 Celebrity Fight Night in Scottsdale, Arizona, to help raise money for the Muhammad Ali Parkinson Center at the Barrow Neurological Institute, along with other prominent charities.
To learn more about Donna B's participation in Ferdinand's Ball, call her at (208) 861-4331. See more of Donna B's art at donnabernstein.com and follow her on Facebook (DonnaBernsteinFineArt) and Twitter (@DonnaB_Art). For information about Ferdinand's Ball, visit http://ferdinandsball.com/.
About Donna B Fine Art
Donna B paintings and sculptures (http://donnabernstein.com) are shown throughout the country and collected around the world. Whether in a private home, corporate setting or hospitality installation, Donna's paintings complement their surroundings and convey intense energy and emotion, always in keeping with the client's aesthetic. A complete listing of galleries, collections and events can be found on the website.