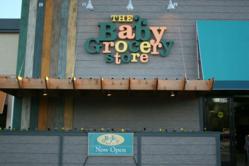 The Baby Grocery Store is passionate about providing and caring for the next generation.
Charlotte, NC (PRWEB) November 20, 2012
The Baby Grocery Store franchise opened their first store in Charlotte, NC last week. The 6,400 square foot store features organic, natural, and non-GMO baby, toddler, and kid foods along with cloth and biodegradable diapers, safe kitchen/eating essentials, organic personal care, plus health and wellness products for parents who are looking for safer options for their children.
Darren Gann, President and CEO of The Baby Grocery Store, calls the franchise a "Whole Foods for babies and kids." After his continual frustration of having to shop at multiple stores for his infant daughter, Gann saw the need for a one-stop shopping experience that had a large variety of healthy children products. "We recognized early on that there have been all natural and holistic pet stores for years, but there were no options for babies," said Gann. That is up until now. The Baby Grocery Store has immediate future plans to open 10 plus stores over the next five years in states like Georgia, Tennessee, Florida, and California.
With over 165 brands, the store offers a wide variety of organic and natural products that you won't find all together at any other store. They offer a convenient shopping experience by providing online shopping options, curb-side pickup, personal shoppers, plus you can check-out from anywhere in the store. The Baby Grocery Store focuses on the community and bringing people together, so they have created a large community room that can be reserved for free for baby showers, first birthday parties, classes, events, playgroups, and more. They also have a functioning kitchen that will be open for cooking demonstrations. Customers can shop online at http://www.thebabygrocerystore.com.
The Baby Grocery Store's grand opening event allowed Charlotte to get a taste of their core beliefs: Choice, Convenience, and Community. The new company was able to bring in special guests like Jef Holm from People Water, lactation consultant and author Jan Ellen Brown, and local celebrities like Guenn from 103.7 WSOC-FM. Companies like GroVia, HappyFamily, Yummy Spoonfuls, Kangovou, Smile Squared, Soapbox Soaps, and MilkMakers Cookies also came to showcase their products. Classes and demonstrations were provided by local companies Wombart Placenta Encapsulation, Ivy's Diaper Service, and Nurturing Touch Doula Care.
About The Baby Grocery Store
The Baby Grocery Store has created a unique all-inclusive shopping experience that is revolutionizing how parents shop for baby essentials. They stock all-natural, organic and non GMO food products to satisfy even the pickiest eaters. Everyday necessities like diapers, wipes, and household items come from companies that care about minimizing their environmental impact and maximizing your child's health and safety. For online shopping, store events, and franchising opportunities, visit http://www.thebabygrocerystore.com or http://blog.thebabygrocerystore.com