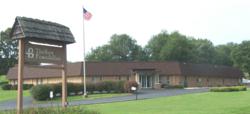 The Bair Foundation provides services to over 5,000 foster youth and hundreds of families in crisis annually.
New Wilmington, PA (PRWEB) February 04, 2012
Through 34 offices in eight states, including Pennsylvania, Ohio, Oklahoma, North Carolina, South Carolina, Virginia, New Mexico, and Texas, The Bair Foundation provides services to over 5,000 foster youth and hundreds of families in crisis annually.
Since its inception, The Bair Foundation has made a commitment to provide the most stable environment possible for children and teens in the foster care system. By implementing a "No Moves" policy once a child is placed in a Bair home, the child's trauma has been minimized, disorders related to attachment are lessened, academic achievement has improved as multiple school enrollments are eliminated, and continuity of services is maximized. This is accomplished through the use of well designed program components such as Preparation for Placement, Effective Treatment Planning, Seeing Opportunities in Crisis, R.O.C.K. Meetings, and Structured Intervention Treatment Foster Care, Bair's new treatment model.
To strengthen the family and prevent out of home placements, The Bair Foundation has expanded its services to include Intensive In-Home and Family Services and B.E.S.T. for Families. These programs were designed to help vulnerable families overcome the stresses of life, promote family cohesion, teach effective discipline and conflict resolution, and improve family relationships while utilizing the strengths of each family member. The Bair Foundation uses a nationally recognized, evidence-based curriculum, "Active Parenting" to bring about positive and lasting change within the family unit.
Using the Performance and Quality Improvement (PQI) process, The Bair Foundation tracks and monitors the improvement of performance measures that have been specifically planned for each program. These measures are monitored by the local offices on a weekly basis and reviewed quarterly by the Quality Improvement Department. The outcomes are reviewed to evaluate quality and the need to make necessary adjustments to increase excellence in service provision.
Through the decades, The Bair Foundation has positively impacted the lives of thousands of foster youth nationally. As they celebrate 45 years of service to children and families, they give credit to the many people who helped make that possible; the community, donors, church partners, foster parents, volunteers, and dedicated staff.
Visit http://www.bair.org for complete information about The Bair Foundation Child and Family Ministries, to locate an office near you, or to join a Team whose mission is to offer hope and healing through a meaningful career in social services.
###