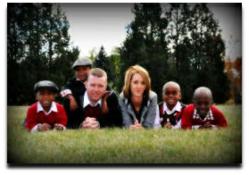 New Wilmington, PA (PRWEB) August 10, 2012
Brandy Pendleton, Director of Intake for The Bair Foundation's Dayton office and her husband Nick finalized the adoption of their second sibling group this summer. Working in the field of foster care, Brandy was aware of the great need for quality foster families and homes. This was the driving force behind her and her husband moving forward to be trained and certified as foster parents and eventually as adoptive parents.
When they started out as foster parents in 2008, Mr. and Mrs. Pendleton did not intend to adopt four children. But when the birth mother of two brothers they fostered, (who are now 7 and 9) surrendered her rights, she also asked the Pendleton's to adopt her boys. They knew it was the right decision for their family.
Another set of brothers, now 5 and 7 who were the first placements Brandy and Nick took after they completed foster parent training, also found a "forever home" with the Pendleton's. The initial placement was only three months, but when the boys returned to the foster care system after a 9 month reunification failed, they were returned to the Pendleton home where they found comfort and love. After four years of trying to get permanent custody, the adoption of the boys was finalized in June 2012. All four boys could not be happier as evident in their interaction with each other. Although born into different homes, these very active boys are very protective of one another and bonded like real siblings.
Brandy and Nick Pendleton were so excited to give the children a forever home where they could grow up together. The children are blessed with a loving, caring family. The children now have a bright future all because of the love and commitment of their adoptive parents who were not afraid to open both their heart and their home to make a difference.
Each year, hundreds of children come into foster care. Many return to their parents. But for some children, adoption becomes the best option for a forever family. Nationally, there are approximately 123,000 foster youth eligible for adoption. The Bair Foundation advocates for, and facilitates (in some states) the adoption of hundreds of foster children and teens each year.
###
About The Bair Foundation
The Bair Foundation is a national organization that has successfully cared for and treated children, teens and families for over 45 years. With 35 offices in eight states, Bair offers a myriad of community based services which include: Therapeutic Foster Care, Traditional Foster Care, Adoption Services, Medically-Needy Foster Care, Independent Living Services, Parent Empowerment Program, B.E.S.T. Program, Wraparound Services, In-Home Services, Assessment Home, & Outpatient Services. The Bair Foundation is accredited by COA (Council on Accreditation) and is a member of The Evangelical Council for Financial Accountability, Alliance for Children and Families, Christian Alliance for Orphans, and Foster Family-Based Treatment Association.