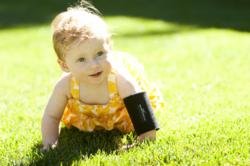 "I realized that my patients weren't reaching their full functional potential with the products available..." - Michael Workman PT
Salt Lake City, UT (PRWEB) May 11, 2011
Since 1998, Michael J. Workman PT, has faced challenges in finding an affordable and reliable method of stabilization for his young patients to assist him during their physical therapy treatments. Now his frustration is alleviated – thanks to his own invention.
About 10,000 babies per year in the U.S will develop cerebral palsy. Workman's pediatric patients, many with cerebral palsy and other developmental delays rely heavily upon manual therapy techniques to reduce the stiffness in their upper bodies. For those children with spasticity in their arms, Workman realized that his patients' therapy sessions would benefit by having added support at the elbow. After years of testing the different elbow braces on the market for possible solutions and being dissatisfied with the results, Workman finally set out to design a product of his own.
"I realized that my patients weren't reaching their full functional potential with the products available or with motor therapy alone. Although other types of braces exist on the market, most are either costly, bulky or simply 'lock' the user's elbow in place without allowing for any movement," said Workman. "To provide kids with something dynamic in nature, cost effective and versatile I knew I would have to create something of my own."
Workman jokes he started with cardboard toilet paper rolls, frozen juice cans and tape but after many prototypes and revisions later, he chose specific plastics, silicone and neoprene to craft his FDA approved Bamboo Brace.
"The design and development of the Bamboo Brace was a lengthy process, but absolutely worth it. The final product is something I will always use with my Professional Therapies' patients (http://shop.professionaltherapies.com) and I'm proud to share it with other professionals in my field, as well as with the parents of our patients," said Workman.
The new pediatric elbow brace is designed to provide support for children with hemiplegic cerebral palsy, stroke, TBI, Brachial Plexus trauma, PPD, autism, and various other genetic/metabolic conditions such as Down Syndrome and Prader-Willi Syndrome. The Bamboo Brace is designed to wrap snugly around the child's elbow joint with interior support provided by one of five interchangeable plastic stays of varying flexibility. The stays can be easily adjusted by therapists or parents to provide more or less stability from the brace. The Bamboo Brace works by helping to isolate the elbow, which minimizes the joint's interference while the user performs activities that help to develop motor control of the trunk, shoulder, wrist, and hand.
"It's great to see a decade's worth of trial and error come to fruition in such great product," said Workman. "Knowing how much children with cerebral palsy and developmental delays will benefit from the Bamboo Brace, as well as how much strength, growth and joy it will bring to the life of these children is the ultimate reward. "
Currently available in two sizes (baby and regular) for $60 MSRP the Bamboo Brace fits users from infancy through about 6 years of age. It is individually handcrafted in the United States with the utmost concern for quality craftsmanship. The Bamboo Brace is FDA approved, fully compliant with the Consumer Product Safety Information Act of 2008 and is free of BPA, lead and phthalates. For more information or to purchase the Bamboo Brace go to (http://shop.professionaltherapies.com/therapy-products/the-bamboo-brace.html)
###